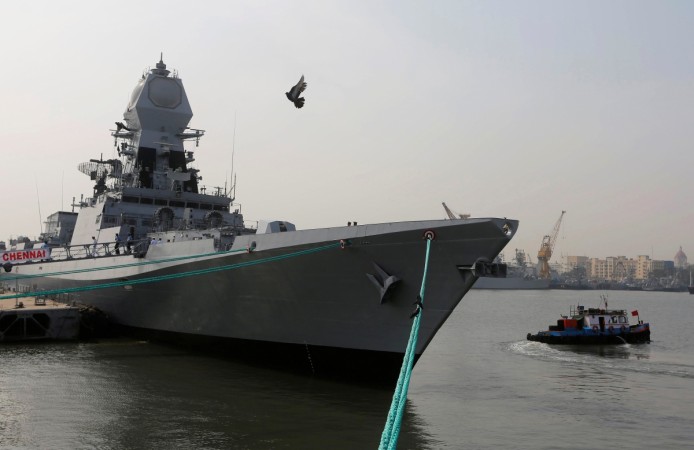 Defence Minister Manohar Parrikar today commissioned 'INS Chennai', the third indigenously designed guided missile destroyer in the Kolkata class, here.
Notedly, INS Chennai is the largest-ever warship to be built in India.
Built at the Mazagon Dock Shipbuilders Ltd in Mumbai, the ship's construction also marks the end of the Project 15A to build Kolkata-class guided missile destroyers.
Chief of the Naval Staff, Admiral Sunil Lanba, was also present on the occasion.
"The ship is equipped with a decoy that can divert a missile attack. Nearly 60% of the ship was built at Mazagon Dock, while weapons and sensors were brought from Israel and Russia. Destroyers are second only to aircraft carriers in projecting raw combat power," said an official.
"The ship is designed to carry and operate up to two multi-role combat helicopters," said vice-admiral Girish Luthra (chief of naval command western command).
With an overall length of 164 metres and displacement of over 7,500 tons, 'INS Chennai' is one of the largest destroyers in the Indian Navy's fleet.
The ship is armed with supersonic surface-to-surface BrahMos missiles and Barak-8 long range surface-to-air missiles.
The ship is going to be assigned to the western fleet after completion of some additional trials of systems deployed on it. It is the final destroyer ship in this class.
The first ship of the class, named 'INS Kolkata', was commissioned on August 16, 2014, followed by 'INS Kochi' which was commissioned on September 30, 2015.
The third destroyer will be placed under the operational and administrative control of the Flag Officer Commanding-in-Chief Western Naval Command.
PTI inputs