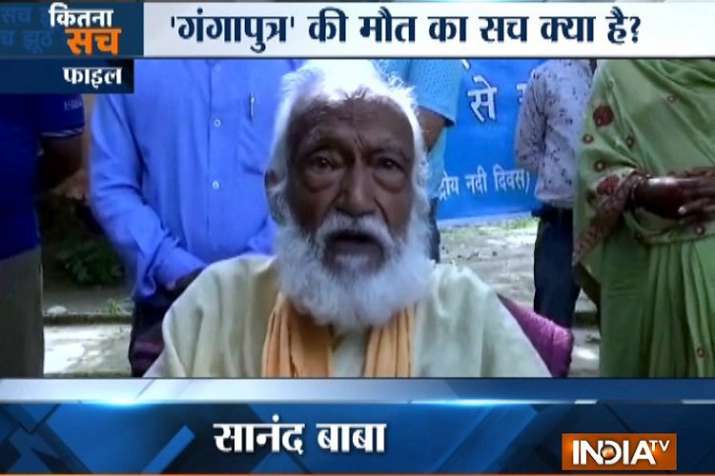 Fresh revelations that have emerged in the case of veteran environmental activist Professor GD Agarwal alias Swami Gyanswarup Sanand have raised doubts of a major murder conspiracy. The doubts over whether Swami Sanand, who died in Haridwar on Thursday emerged after a video, that showed police officials forcibly taking the activist to the hospital, went viral on social media. 
Reports suggest that the 48-hour-old video shows police officers forcefully taking Swami Sanand, who was fasting for the past 111 days demanding a clean Ganga.
In their defence, the police officials said that it was necessary to take Swami Sanand to hospital as his health condition had deteriorated following the 111-day-long fast.
However, many colleagues of Swami Sanand have alleged that his death was not caused by health problems, but rather it was a case of carefully plotted murder.
"This is a case of brutal murder. The police are responsible for this", said Swami Shivanand, a colleague of Swami Sanand.
The doubts over an alleged 'murder' plot deepens as few days ago Swami Sanand himself on record said that he was perfectly fit. "If I do not want to undergo medical treatment, no one can forcefully let me. The police have acted way out of their jurisdiction. Law and order was clearly violated. Neither the police officials, nor the hospital authorities can force me to undergo treatment", said Swami Sanand in his statement.
Swami Sanand was forcibly shifted to the AIIMS hospital from his Matri Sadan ashram on Wednesday after his health deteriorated significantly after he stopped drinking water.
In his last hand written press release, Sanand said that the level of potassium in his blood was alarmingly low. AIIMS director Dr Ravi Kant said Agarwal suffered from hernia, high blood pressure and coronary artery disease and the fast worsened his condition. I have accepted potassium orally administrated to me (at AIIMS), Sanand mentioned in the note.
However, the statements by AIIMS director Dr Ravi Kanth Agarwal have strengthened the doubts over a possible murder. "He wanted to break the fast, but was not allowed. He even said that he had received threatening calls from unknown sources demanding not to break fast".
Now the major question his whose was those 'threatening calls' that took the life of the professor turned seer.
Earlier on Friday, Swami Avimukteshwaranand, the spiritual guru of Swami Sanand said that he had died under 'mysterious circumstances' and demanded a CBI probe into his death.
The way the police picked him up from Matri Sadan (his ashram) and he died (at the hospital) raises doubts over the state government's intentions, he said.
Avimukteshwaranand said Sanand had written six letters to Modi since February but his demands were ignored.
"He wrote on February 24, June 13 and June 22 --- the day he began his hunger strike. He said the mining and river projects posed a threat to the Ganga and its neighbourhood but the Prime Minister, who claims the Ganga is his mother, ignored him, Avimukteshwaranand said.
"He again wrote to the Prime Minister on June 23. The next letter was sent on August 5 through Uma Bharati, drinking water and sanitation minister, when she met Sanand at his ashram. The last letter was written on September 9, mentioning all his previous letters, while informing Modi that he would stop drinking water from October 10."
Prime Minister Narendra Modi expressed grief at the demise and tweeted, "Saddened by the demise of Shri GD Agarwal Ji. His passion towards learning, education, saving the environment, particularly Ganga cleaning will always be remembered. My condolences."
Reacting to the death, the Centre said that almost all the demands made by Agarwal had been accepted. Water Resources and Ganga River Rejuvenation Minister Nitin Gadkari had said, "We have accepted almost all his demands (on cleaning of the Ganga). One demand was to to ensure environmental flow and we have come out with a notification." 
Agarwal was a professor at the Indian Institute of Technology (IIT) Kanpur and also served on the Central Pollution Control Board (CPCB). 
The former IIT professor was agitating since June this year demanding that Ganga river should flow 'undisrupted' and that all ongoing hydro power projects on the Ganga basin should be stopped. He has also been demanding enactment of the Ganga Protection and Management Act. 
Swami Sanand was also a member of National River Ganga Basin Authority during the UPA tenure. In 2010, he fasted for 38 days seeking scrapping of 600 MW Lohari Nagpala project on Bhagirathi River as it hampers free flow of water. Later, a three-member group of ministers scrapped the project. 
WATCH VIDEO: