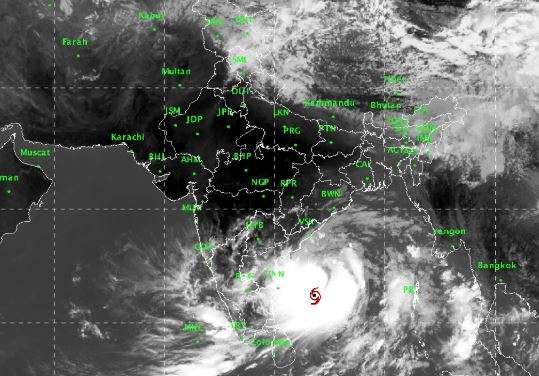 Cyclonic storm 'Fani' is expected to make landfall in Odisha on Friday afternoon. Wind speed may touch up to 180 km per hour causing heavy rainfall in the coastal districts of the state, the India Meteorological Department (IMD) said on Wednesday.
'Fani' expected to make landfall in Odisha tomorrow
Fani is expected to hit the Odisha coast south of Puri.
Fani is likely to impact coastal districts like Ganjam, Gajapati, Khurda, Puri and Jagatsinghpur, Kendrapada, Bhadrak, Jajpur and Balasore.
In West Bengal, districts of East and West Medinipur, South and North 24 Parganas, Howrah, Hoogly, Jhargram and Kolkata alongwith Srikakulam, Vijayanagram and Visakhapatnam districts of Andhra Pradesh are likely to be affected, the IMD said. 
The IMD also warned of storm surge of about 1.5 metres height which may inundate low- lying coastal areas of Odisha's Ganjam, Khurda, Puri and Jagatsinghpur districts at the time of landfall.
Odisha informed that around 900 cyclone shelters have been made ready to house the evacuees and requested two helicopters to be stationed in the state for emergency food distribution. 
The government has directed the Ministry of Defence to meet the requirements of Odisha government, and once again advised all concerned to make adequate preparations to ensure maintenance of essential services such as power and telecommunications in the event of damages caused to them.
Railways, Civil Aviation and Shipping Ministries were advised to review their preparedness well in time and ensure quick resumption of their services in the event of any disruption.
The Indian Coast Guard and the Navy have deployed ships and helicopters for relief and rescue operations. 
States have issued advisories and are ensuring that fishermen do not venture into the sea, said the statement.
The National Crisis Management Committee (NCMC) will meet on Thursday to take stock of the emerging situation.
Andhra Pradesh: National Disaster Response Force (NDRF) team arrives in Ichchapuram, Srikakulam in view of #CycloneFani. pic.twitter.com/jr3UafGyBZ

— ANI (@ANI) May 2, 2019
EC Railway: A special train with reserved & unreserved berths will start from Puri at 12 pm today & go towards Shalimar.Stoppages- Khurda Road, Bhubaneswar, Cuttack, Jajpur, Kendujhar road, Bhadrak, Balasore & Kharagpur. Train will reach Bhubaneswar at about 1:30 pm. #CycloneFani pic.twitter.com/Km969j3Bnm

— ANI (@ANI) May 2, 2019
WATCH VIDEO:
(With inputs from IANS)