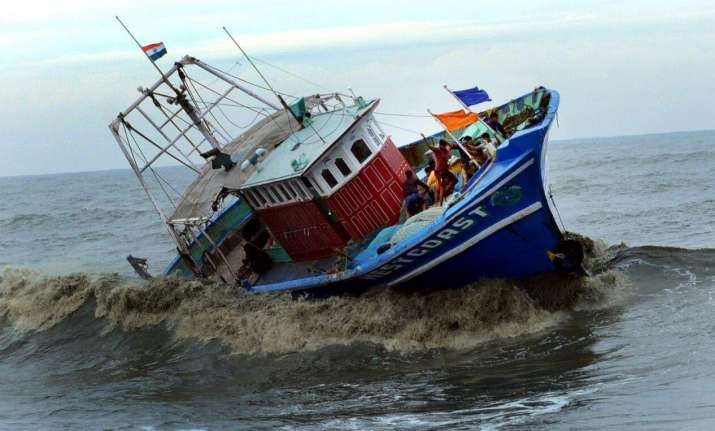 Cyclone Ockhi, which has claimed 22 lives in Kerala and Tamil Nadu, made a landfall in Lakshadweep in Arabian Sea on Saturday and is expected to intensify in the next 24 hours, the Met department has warned.
At least 200 fishermen were rescued by a joint operation carried out by Navy, Air Force and Coast Guard.
With the India Meteorological Department (IMD) predicting a heavy rainfall at isolated places of Tamil Nadu and Kerala over the next 24 hours in view of Cyclone Ockhi, the Central Water Commission (CWC) on Friday said the pouring might trigger a rapid rise in the water level of the rivers in the two southern states.
Meanwhile, the Indian Navy conducted a search and rescue operation of missing fishermen off the Kerala Coast. The Navy and Coast Guard safely rescued over 200 fishermen who were stranded due to inclement weather.
HERE ARE THE HIGHLIGHTS:
08:50 pm: Given orders to Maharashtra Maritime Board and Collector, Sindhudurg Dist. to make all arrangements for the stranded fishermen. Local authorities are already with them and taking care of all arrangements, tweets Maharashtra CM Devendra Fadnavis
08:49 pm: Claims of thousand fishermen stranded is false. Correct figures- 97 are yet to be rescued, 71 from TN have been rescued till now. The Coast Guard is at it, with all its strength to rescue the rest. Hoping for good news soon: Nirmala Sitharaman
08:48 pm: In all 68 fishing boats have reached, out of which 66 are from Kerala& 2 from Tamil Nadu with total 952 fisherman on board.All are safe. Maharashtra will completely look after everyone till weather permits them to go back, tweets Maharashtra CM Devendra Fadnavis
08:47 pm: The Indian Navy, India Coast Guard, Indian Air Force have rescued fishermen from TN & Kerala too. Per the letter from TN Chief Secretary, missing TN fishermen is 97. Rescue operations are continuing: Nirmala Sitharaman
05:20 pm: 
#Kerala Locals have blocked National Highway for last five hours in Trivandrum's Thumba, demand better relief measures & rescue of 6 fishermen missing from the area #CycloneOckhi pic.twitter.com/rcTY0gyDty

— ANI (@ANI) December 2, 2017
05:10 pm: Light rains with isolated moderate showers will continue over Thiruvananthapuram, Alappuzha, Kollam, Kochi and Kottayam during the next 24 hours.
05:05 pm: 531 fishermen, stranded in choppy waters off Kerala and Lakshadweep coasts due to Cyclone Ockhi, have been rescued. PTI quotes Kerala CM Pinarayi Vijayan.
04:53 pm: Ockhi is now expected to travel north towards Mumbai and Gujarat in the next 48 hours, though it is likely to lose intensity, reported IMD.
04:52 pm: The Indian Navy, Air Force and Coast Guard have resumed their search for 102 Kerala fishermen who are yet to return home in the wake of Cyclone Ockhi.
04:45 pm: The very severe cyclonic storm Ockhi is 240km southwest of Laksadweep's Amini, reports IMD.
04:30 pm: Fresh spell of heavy rain likely in some areas of Tamil Nadu, Andhra Pradesh & Puducherry with a low pressure area forming over south Andaman Sea: Met office
03:05 pm: As many as 531 fishermen, stranded in the choppy waters off the Kerala and the Lakshadweep coasts due to Cyclone Ockhi, have been rescued, Kerala Chief Minister Pinarayi Vijayan said.
02:22 pm: So far 393 people from Kerala have been rescued, Vijayan said, as the state government announced a compensation of Rs 10 lakh to the family of those who died in the storm.
01:55 pm: The Kerala government has already announced free ration to be supplied to the affected fishing villages.
01:05 pm: The intensity of the rains and winds in the deep sea was reported to have come down.
Kerala: Locals in Thiruvananthapuram's Poonthura came out in protest alleging rescue operations have been inadequate #CycloneOckhi pic.twitter.com/hFSbbfT9Mv

— ANI (@ANI) December 2, 2017
12:35 pm:  Several houses suffered damage, coconut trees got uprooted and communication lines were disrupted as rains accompanied by strong winds lashed the Lakshadweep islands under the influence of Cyclone Ockhi.
12:01 pm: Five fishing boats were damaged early today at Kalpeni island as water level rose due to heavy rains, sources said. The 'very severe' cyclonic storm Ockhi - which in Bengali means 'eye' - over Lakshadweep is likely to intensify further in the next 24 hours.
11:34 am: It is likely to continue to move west-northwestwards across Lakshadweep islands during the next 24 hours and then recurve north eastwards during the subsequent 48 hours, according to the latest Met department bulletin.
11:05 am: The Tamil Nadu government has said it will soon seek central funds for the damage caused by Cyclone Ockhi in the southern parts of the state, with Kanyakumari and Tirunelveli districts being the worst hit.
10:50 am: "The prime minister assured to immediately give the required assistance," the release issued last night said. Modi dialled Palaniswami and enquired about the damage caused by the cyclone, which also battered parts of Kerala, a state government release said.
09:41 am: Heavy rain lashed at Tirunelveli due to which the traffic came to a halt on the Karupanthurai - Melapalyam link road as the low-lying bridge was submerged in the Thamirabarani River.
09:30 am: As Cyclone Ockhi intensified into a severe cyclonic storm, around 165 families were shifted from the coastal areas of Kerala by the local administration.
#Low pressure over south East #Arabian Sea has organised in #Well marked low. Will intensify into #Depression on Dec 3rd. @SkymetWeather pic.twitter.com/PfpYJMY6yn

— Mahesh Palawat (@Mpalawat) December 1, 2017
09:25 am: Cyclonic storm Ockhi had hit the southern districts of Kerala and Tamil Nadu on Thursday, and caused widespread destruction in the southern districts of Thiruvananthapuram and Kollam.
08:50 am: Sri Lankan Navy apprehended 20 Indian fishermen along with two fishing trawlers for poaching in Sri Lankan territorial waters north and west of Delft island on Friday night.
08:30 am: As per ANI report, fishermen have been taken to naval base SLNS Uttara in Kankesanthurai and handed over to Jaffna Assistant Director of Fisheries.
08:15 am: Heavy rains lashed Tamil Nadu's Tirunelveli on Friday. Traffic halted on the Karupanthurai-Melapalyam link road as the low-lying bridge was submerged in Thamirabarani river.
08:12 am: A Central Water Commission advisory said the west-flowing rivers in Thiruvananthapuram, Kollam, Pathanamthitta, Idukki, Kottayam, Alappuzzha and Ernakulam in Kerala were likely to rise over the next 24 hours and then, slowly fall as the rains reduced.
08:00 am: However, the rivers in Tamil Nadu's Kanyakumari were likely to remain in a "high flood" situation during the period, the advisory said, adding that the water level in these rivers was expected to dip as the effect of the rainfall reduced.
07:55 am: The Papanasam and Manimutharu dams in Tamil Nadu were likely to get heavy inflows due to the rainfall for the next 12 to 24 hours. The east-flowing Tambraparani river was likely to rise all along its course in Tirunelveli and Thoothukudi districts of the state during the next two-three days, the advisory said.
07:48 am: Similarly, the Vaigai river was likely to rise and a "significant inflow" was expected to be added to the Vaigai dam during the period, it added.
07:36 am: "However, as there is a sufficient cushion, the releases may not immediately be required," the advisory said.
07:32 am: The CWC said the Amaravathi and Bhavani rivers and their tributaries in the Cauvery basin were also expected to receive sufficient flows, increasing the water levels in the Amaravathy, Moyar, Pilloor and Bhavanisagar dams in the Nilgiris, Coimbatore and Erode districts of Tamil Nadu.
07:28 am: The rainfall was also likely to cause a rise in the water level of the Gomukhi and Wellington dams in Villupuram and Cuddalore districts of the state respectively, the advisory said.
07:26 am: "The lakes around Chennai are also expected to get sufficient inflows during the period between December 2 and 6," the commission said.
07:25 am: "The release from the Sathanur dam has to be accordingly monitored, in view of the developing situation in association with the well-marked low pressure in the Bay of Bengal which is likely to become a depression and move towards the North Tamil Nadu-South Andhra Pradesh coasts," it added.
07:23 am: The Somasila and Kandaleru projects in Nellore district of Andhra Pradesh were also likely to receive "significant inflows" due to the depression, which was likely to affect the southern parts of the state from December 5 onwards.
07:20 am: "There is a likelihood of a rapid rise in the water levels of the Suwarnamukhi and Kalingi rivers in Chittoor and Nellore districts," the commission said.