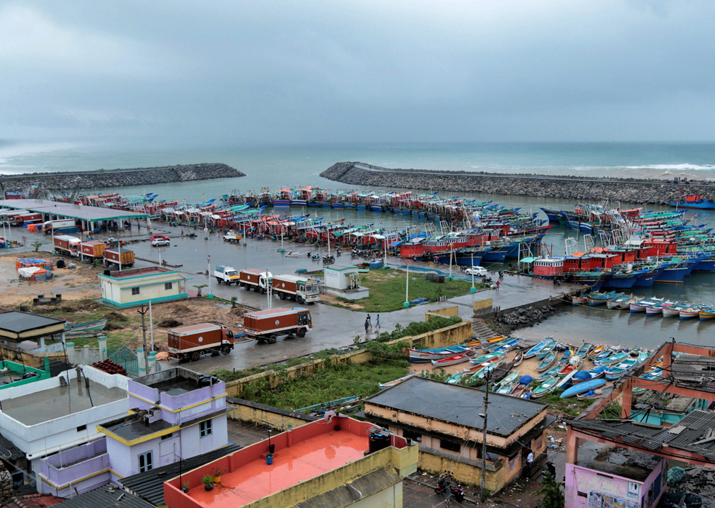 Cyclone Ockhi, which has caused widespread damage in Kerala's Thiruvananthapuram and Kollam districts, will not be termed a national disaster, Minister of State for Tourism K.J. Alphons said on Sunday.
On Saturday, the Kerala government decided to approach the Centre for declaring Ockhi a national disaster.
"There is no provision to declare this as a national calamity. The Centre will provide funds. If needed, more funds will be allocated," Alphons said here.
Alphons held a meeting with Chief Minister Pinarayi Vijayan and other cabinet colleagues earlier in the day to discuss the rescue and rehabilitation operations.
Meanwhile, the Indian Meteorological Department informed that moderate rain in expected at a few places in Tamil Nadu and Puducherry during the next 24 hours. 
"Fishermen are asked not to venture into deep sea of north Tamil Nadu and South Andhra coast till December 25 as the cyclone is expected to move towards the region," said MET department head S Balachandran. 
He added that in the next three to four days it will move "strongly."
"Rainfall will occur in north part and south Tamil Nadu. Thirteen stations recorded heavy rain fall in 24-hours," the MET head said in a press conference here.
However yesterday, IMD said that the cyclonic storm 'Ockhi' is likely to weaken gradually from Sunday.
"The very severe cyclonic storm 'Ockhi' over Lakshadweep area and adjoining Southeast Arabian Sea further moved northwestwards with a speed of 15 kmph during past 6 hours and lay centred at 2330 hrs IST of December 2, 2017 over southeast Arabian Sea near Latitude 11.1º N and Longitude 69.7º E, about 330 km west of Amini Divi. The system is very likely to weaken gradually from today the December 3, 2017 morning," said IMD.
The deadly cyclone, which had claimed many lives, lashed the coastal areas of Tamil Nadu and Kerala on Saturday with torrential rainfall and gusty winds.
On Saturday, CM Pinarayi Vijayan said that as many as 531 fishermen, stranded in the choppy waters off the Kerala and Lakshadweep coasts due to Cyclone Ockhi, have been rescued. 
The Kerala government has also announced a compensation of Rs 10 lakh to the next of kin of those who lost their lives in the cyclonic storm. In total, 29 relief camps have been set up to accommodate those marooned in coastal areas.