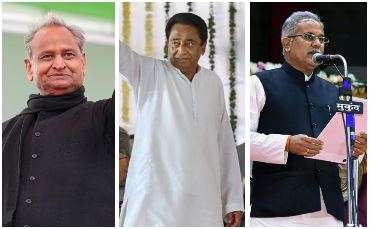 Senior Congress leaders Ashok Gehlot, Kamal Nath and Bhupesh Baghel on Monday took oaths as Chief Ministers of Rajasthan, Madhya Pradesh and Chhattisgarh, respectively. Party president Rahul Gandhi and other veteran leaders were present in all the three ceremonies. 
In Rajasthan, state party chief Sachin Pilot was appointed as deputy Chief Minister. Governor Kalyan Singh administered oath of office to Gehlot at the historic Albert Hall. Pilot took oath as a minister and was subsequently appointed as the deputy chief minister by the governor in the presence of a large number of leaders from various political parties.
Congress president Rahul Gandhi, former prime minister Manmohan Singh, outgoing chief minister Vasundhara Raje attended the event.
Nationalist Congress Party (NCP) chief Sharad Pawar, Telugu Desam Party (TDP) supremo and Andhra Pradesh Chief Minister Chandrababu Naidu, National Conference president Farooq Abdullah and Rashtriya Janata Dal (RJD) leader Tejashwi Yadav were also present.
Janata Dal (Secular) president and former prime minister H D Deve Gowda, Karnataka Chief Minister H D Kumaraswamy, Jharkhand Mukti Morcha's (JMM's) Hemant Soren, Jharkhand Vikas Morcha (JVM) leader Babulal Marandi were among others who attended the event. DMK president M K Stalin, who had on Sunday proposed the name of Gandhi as the prime ministerial candidate of the proposed anti-BJP front, was also there at the ceremony.
[ALSO READ] Kamal Nath sworn in as Madhya Pradesh Chief Minister ending 15 years of BJP rule; Here is all you need to know about him
Gehlot has become the fourth leader to hold the chief minister's post for a third time. The Congress leader became the chief minister for the first time in 1998 and held the post again in 2008.
Pilot was wearing a 'safa' or a traditional turban as a mark of victory of the Congress in the state. The state Congress president had pledged in 2014 to not wear the traditional headgear till the party returns to power. Enthusiastic party workers shouted slogans in support of both Gehlot and Pilot and climbed on to chairs to have glimpse of the event.
This is for the first time that the oath-taking ceremony of the chief minister took place at the hall. Traditionally, such ceremonies are held at Raj Bhawan. Raje, however, had taken oath outside the Assembly building in 2003 and 2013. 
[ALSO READ] Ashok Gehlot sworn in as 12th CM of Rajasthan: All you need to know about this 'magician', Congress' 'go-to-man'
In Madhya Pradesh, senior Congress leader Kamal Nath was on Monday sworn in as its 18th Chief Minister, bringing to an end 15 years of BJP rule in the state which had become the saffron party's stronghold.
The nine-time MP and former union Minister was administered the oath of office and secrecy by Governor Anandiben Patel at a function held at the Jambori Maidan on a day the Delhi High Court convicted Congress leader Sajjan Kumar in the 1984 anti-Sikh riots, sparking calls that Kamal Nath should not be made Chief Minister. 
Asked about the demand, he told the media that he had been a Minister at the Centre in 1991 and later too but wondered why demands were being made now. "There has been no charge. There has been no case. Why now? I see a hidden hand."
The 72-year-old Kamal Nath, who represented Chhindwara for nine terms in the Lok Sabha, was the only one to take the oath even as the other contender to the Chief Minister's post, Jyotiraditya Scindia, was present. The ceremony was held an hour behind schedule at 2.30 p.m. 
The brief ceremony was attended by Congress President Rahul Gandhi, former Prime Ministers Manmohan Singh and H.D. Deve Gowda, outgoing Chief Minister Shivraj Singh Chouhan, another former BJP Chief Minister Babulal Gaur and a galaxy of national leaders in a show of opposition unity ahead of the 2019 Lok Sabha polls.
[ALSO READ] Bhupesh Baghel takes oath as Chief Minister of Chhattisgarh
BSP chief Mayawati and Samajwadi Party chief Akhilesh Yadav, whose parties have extended support to the Congress government, were conspicuous by their absence. 
In Chhattisgarh, State Congress President Bhupesh Baghel was on Monday sworn in as the third Chief Minister of the state, bringing to an end 15-year rule of the Bharatiya Janata Party (BJP).
Baghel, who represents Patan Assembly constituency in Durg district, was administered the oath of office and secrecy by Governor Anandiben Patel in the presence of Congress President Rahul Gandhi, former Prime Minister Manmohan Singh and former Chief Minister and BJP veteran Raman Singh. 
Ashok Gehlot was also present along with his deputy Sachin Pilot and Jyotiraditya Scindia, the Guna MP from Madhya Pradesh. 
After the swearing-in ceremony, Gandhi took to twitter to thank the people of the state and vowed to build a "new Chhattisgarh". 
"We will work shoulder-to-shoulder to build a new Chhattisgarh. Farmers, youth and women will have a special claim to this government," said Gandhi expressing his gratitude to party workers and leaders for the hard earned victory.
Made the state party chief in October 2014, Baghel led from front in scripting the rout of Raman Singh-led BJP in the tribal-dominated state, where Congress won 68 seats in the 90-member Assembly.
Baghel had taken over the reins of party nearly a year-and-half after the top state leadership was wiped out in a Maoist attack in 2013, including the then state unit chief Nand Kumar Patel and party veteran Vidya Charan Shukla. 
(With inputs from agencies)