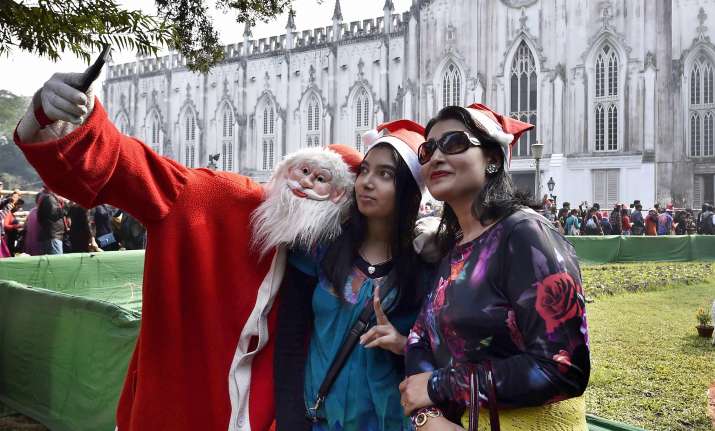 Exchange of greetings and merriment marked Christmas in three Christian- dominated north-eastern states—Mizoram, Meghalaya and Nagaland—as well as in West Bengal today.  The day was marked by prayers and special services and singing of carols at the churches. 
In Meghalaya, government buildings, residential areas and churches were spruced up with lights and illuminated stars.  At the Shillong Cathedral of the Catholics, a special midnight service was led by Arch Bishop Rev. Dominic Jala.  
Extending his wishes to the people on the occasion, Meghalaya Governor Ganga Prasad said, "As we celebrate Christmas, let us resolve to revere the spirit of Christmas by treating one another with love and compassion and to share and care for the mankind." 
Chief Minister Mukul Sangma said, "May this season of goodwill further strengthens the bond of friendship and camaraderie and brings bountiful blessings to all." In neighbouring Nagaland, people started thronging the churches to attend the special service since the morning.
Community feasts were also arranged at certain places.  
Decorative lights, Christmas stars and trees could be seen outside the houses, while the colony junctions were also decorated, depicting the nativity scenes and cribs from the Bible, associated with the birth of Jesus Christ. 
The celebrations had started early last evening with people lighting camp fires, while special services were held at the churches. 
In his message, Nagaland Governor P B Acharya said, "Christmas is a time to heal the wounds, close divisions and remain united, and also to renew love, tolerance and compassion which Jesus taught." 
Chief Minister T R Zeliang also wished the people on the occasion.
 
In Mizoram also, special services were held at the churches. 
Christmas celebrations were witnessed in Kolkata and other parts of West Bengal as well.
 
Serpentine queues of people were seen outside the brightly illuminated St Paul's Cathedral in Kolkata, Bandel Church in Hooghly and at other places as people went inside the prayer hall with candles during the day.  
Like every year, there was a huge rush to take part in the midnight mass at some of the churches.  
Besides the churches and cathedrals, the compound of Bow Barracks—the hub of Anglo-Indians in central Kolkata—was also illuminated with stars and decorative lights, while stalls were set up to serve home-brewed wine and cakes.  
At Park Street, the epicentre of Christmas celebrations in the city, the state government has organised a carnival like the last few years. There were musical performances at the Allen Park even as Flury's, the iconic tea room, and bar- cum-restaurants like Trincas were decorated with lights and filled to capacity. 
Sparkling lights of Chandernagore, an integral part of the Durga Puja festivities, added to the festive air.  Most of the city hotels and restaurants have included delicious turkey dishes and cakes in their menu, while the bakeries too have lined up a wide variety of products.