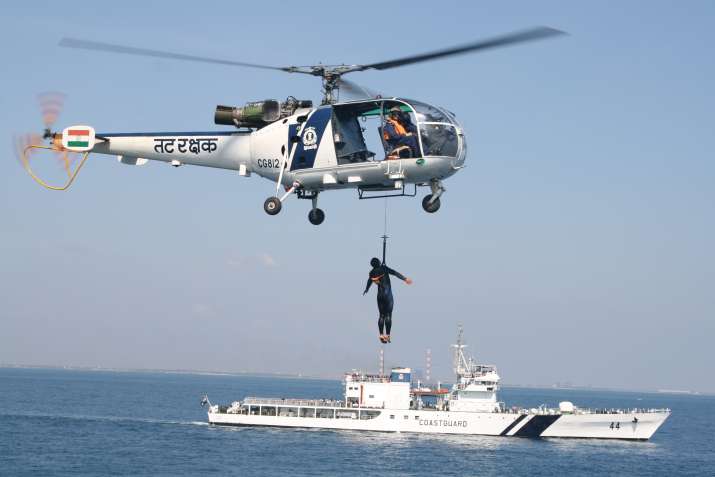 To strengthen the force-levels of Coast Guard, whose role became crucial after the 26/11 terror attacks in Mumbai in 2008, the government has approved a "definitive five-year action programme" worth Rs 31,748 crore, says a Times of India report. 
According to the report, the plan, which includes reinforcement of offshore patrol vessels, boats, helicopters, aircraft and critical operational infrastructure, was given nod at a meeting chaired by defence secretary Sanjay Mitra earlier this month. 
The defence ministry's aim is to make the Coast Guard a 175-ship and 110-aircraft force by 2022 to make sure that it is capable enough to safeguard coastal security, island territories, offshore assets and marine environment, as well as undertake anti-piracy, anti-smuggling oil-spill and pollution-control operations. 
Currently, the Coast Guard has 130 "surface units" which include 60 ships, 18 hovercrafts and 52 smaller interceptor boats/crafts. In terms of "air units", it only has 39 Dornier maritime surveillance aircraft, 19 Chetak choppers and four Dhruv advanced light helicopters. 
The action plan aims at bolstering the force-levels of the Coast Guard after the Mumbai terror attacks highlighted alarming lapses in the country's coastal security infrastructure. 
"The force already has 65 ships and interceptor crafts/boats under construction. Moreover, the acquisition of 30 helicopters for over 5,000 crore is also underway," a source was quoted by Times of India as saying. 
As of now, 16 indigenous Dhruv choppers have already been ordered from Hindustan Aeronautical Ltd, and the procurement of 14 twin-engine EC-725 tactical choppers, which can carry up to 30 passengers, from Airbus is in the final stages of approval now.
Moreover, the Coast Guard is also looking for six more maritime multi-session surveillance aircraft and five more air stations/enclaves to add to the nine such establishments already present.