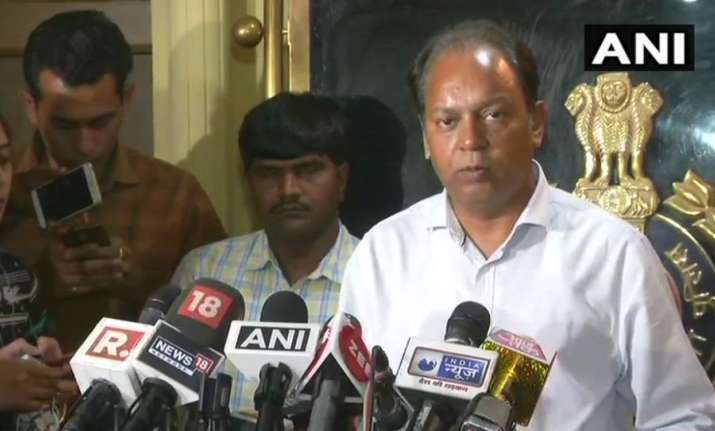 Congress spokesperson Randeep Surjewala on Thursday said that a fair and impartial investigation into the Central Board of Secondary Education (CBSE) paper leak issue is impossible without removing Union HRD Minister Prakash Javadekar and board chairperson Anita Karwal from their current positions.
Earlier in the day, the board, in a complaint to Delhi Police, said that it had received a fax from an unknown source on March 23 naming a coaching institute owner from Delhi's Rajinder Nagar as the main suspect in the CBSE paper leak. 
A Special Investigation Team (SIT), comprising of 2 DCPs, 4 ACPs and 5 inspectors, has also been constituted to look into the incident.
HERE ARE THE LIVE UPDATES:
#CBSE Chief met Union HRD Minister Prakash Javadekar earlier today
#People questioned by Delhi Police Crime Branch include 18 students and 5 tutors: Police
#We have no information that CBSE paper leak is pan-India, but if such a thing emerges, we will send teams outside Delhi: Police
#We are trying to trace the trail of paper leak. One private tutor was named by CBSE in their complaint, he has been interrogated: RP Upadhyay
#The Delhi Police has formed a special investigation team (SIT) for the investigation in CBSE paper leak: RP Upadhyay, Special CP, Delhi 
#Total 25 people have been questioned so far. Both the papers were leaked on WhatsApp a day before the exam. No person has been arrested so far: RP Upadhyay, Special CP, Delhi
#The Delhi Police has raided over 50 places since last night.
#The Delhi Police is questioning the owner of a coaching centre in Rajender Nagar whose name was shared by the CBSE in their complaint and who is suspected to be behind the alleged leak of Class 12 economics paper. 
#The suspect, a Delhi University passout, used to teach mathematics and economics. He is one of the main suspects, an official privy to the probe told PTI. 
#A fair and impartial investigation into CBSE paper leak issue is impossible without removing Union HRD Minister Prakash Javadekar and CBSE Chairperson Anita Karwal from their current positions, says Congress' Randeep Surjewala
#Students protest against CBSE paper leak at Delhi's Jantar Mantar, raise slogans.
All India Democratic Students' Organisation holds a protest at Delhi's Jantar Mantar over #CBSEPaperLeak pic.twitter.com/sbiXevASuX

— ANI (@ANI) March 29, 2018
#Rahul Gandhi is remembering the days of Congress governance in the country, says Union Law Minister Ravi Shankar Prasad on Congress president's attack on PM Modi over CBSE paper leak matter.
#In its complaint, CBSE said that the fax sent by an unknown source had named two schools in connection with the paper leak.
UNION HRD MINISTER JAVADEKAR ADDRESSED A PRESS CONFERENCE ON CBSE EXAM PAPER LEAK
-This is a very unfortunate development, I understand the pain the parents and students have to go through. Whoever is involved in the paper leak will not be spared, police will soon arrest the culprits, said Javadekar.
-It is true that students who have prepared hard to write their exams should not be the ones who suffer. However, at this time it is very important to change the exam pattern and catch hold of the CBSE paper leak culprits.
- We will not let go any culprit; the police is on their job and we have also constituted an internal inquiry on the CBSE paper leak matter.
-The paper leak incidence is very unfortunate and we understand the anguish of the students and parents on the same.
- We will punish the culprits related and will ensure the necessary changes in the exam pattern in future.
#"How many leaks? Data leak! Aadhar leak! SSC Exam leak! Election date leak! CBSE papers leak! "There is a leak in everything, the 'chowkidar' is weak," Congress president Gandhi said in a tweet that was in both Hindi and English.
#On Wednesday, the board announced it will re-conduct exams for Maths paper of Class X and Economics paper of Class XII after leak of both papers on social media message application.
#Meanwhile, the Delhi Police's Crime Branch has also begun investigating the alleged leak of examination papers after registering two separate cases in the matter. 
#On Monday, panic had gripped students of Class XII following claims on social media that the Economics paper had been leaked even though the board denied there was any slip up. 
#Reports about the paper being leaked had circulated on social media, including on WhatsApp, several hours before the paper commenced on Monday. 
Watch video: CBSE paper leak: 2 cases registered, SIT formed for investigation