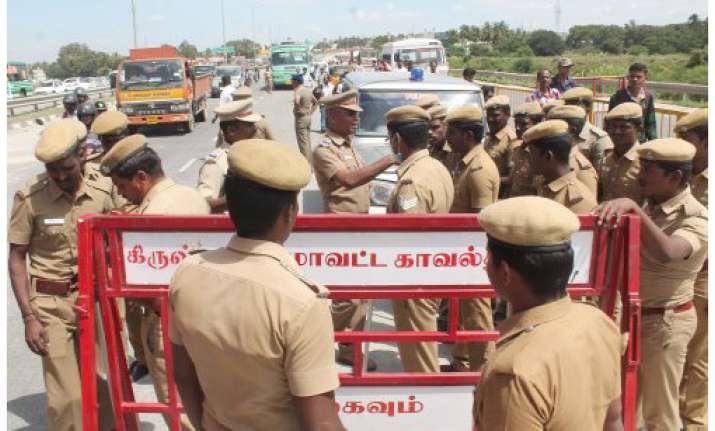 The Pro-Kannada outfits and farmers today are protesting in different parts of Karnataka against Supreme Court's order to the state to release 6000 cusecs of Cauvery River water to neighbouring Tamil Nadu.
Activists took to the streets in Mandya, the epicentre of Cauvery agitation, and tried to stop traffic on Bengaluru-Mysuru highway in protest against the order.
News agency ANI reported that Janata Dal (Secular) representatives from Mandya including zilla panchayat, taluqa panchayat leaders, MPs and MLAs are resigning from their posts.
In Mysuru, farmers tied a noose around their necks to protest against the fresh order.
Keeping in mind the violence that ensued last week in Bengaluru, the administration has deployed additional troops in the city and sensitive areas to ensure no untoward incidents happen.
Karnataka state reserve police, city armed reserve police, rapid action force and quick reaction teams have been stationed across Bengaluru, where prohibitory orders under section 144 are in force.
On the other hand, Karnataka Chief Minister Siddaramaiah, who has already termed that apex court's order 'unimplementable', has called an all-party meet and Cabinet today discuss the next step.
"Karnataka does not have water and it would be difficult to implement the SC order. It is an unimplementable order," he said.
The Cauvery Supervisory Committee had on Monday asked Karnataka to release 3,000 cusecs per day from September 21 to 30 but the apex court doubled the quantum to 6,000 cusecs till September 27 on Tuesday after Tamil Nadu pressed for water to save its samba paddy crop.
The Chief Minister said that Karnataka had placed facts based on ground reality before the Cauvery Supervisory Committee but it still passed an order directing the state to release 3,000 cusecs per day between September 21 and 30.
He said the Supervisory Committee was constituted by the apex court, which had given a direction on September 5 to Tamil Nadu to approach the panel and asked Karnataka to file a response to the neighbouring state's plea.