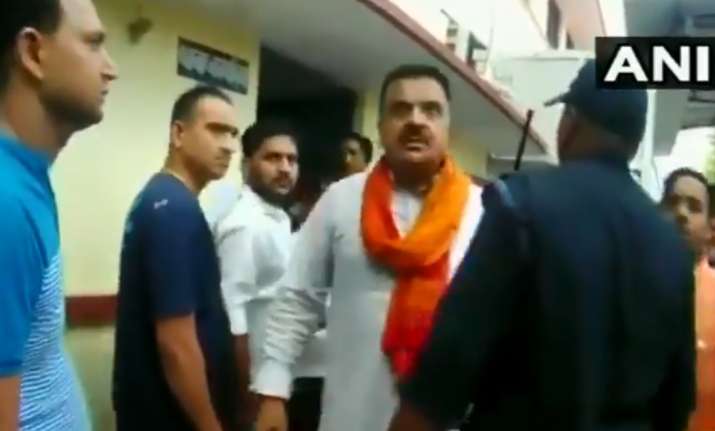 Bharatiya Janata Party (BJP) MLA from Uttarakhand Rudrapur Rajkumar Thukral has once again courted controversy by allegedly threatening a female cop over detaining a couple for traffic violation Dehradun. Known for allegedly beating and threatening people in the past, the MLA can be seen shouting and threatening Sub Inspector of City Patrol Unit Anita Gairola in a video, recorded by a bystander. The video has now gone viral. 
According to reports, the incident took place on Friday when Gairola detained a couple for violating traffic regulations on a busy road. The husband, who was driving a motorbike, was reportedly found inebriated and started a heated debate with cop when asked for the papers. The duo were taken to the nearby police station, where the BJP MLA came to defend them. Soon an argument broke out between the BJP legislator and the cops.  
The female cop has filed a complaint against the BJP MLA's behaviour.
#WATCH Uttarakhand: Video of BJP MLA from Rudrapur Rajkumar Thukral goes viral. In the video the MLA is seen threatening Sub Inspector of City Patrol Unit Anita Gairola over detention of two people over traffic violations. (7.9.18) pic.twitter.com/2q2ADCU07G

— ANI (@ANI) September 9, 2018
Earlier in May, another video of the BJP MLA had gone viral where he was seen threatening a toll plaza operator. Before that in March, an FIR was registered against him for allegedly beating up Dalit women and making casteist remarks in Dehradun. The video of the March incident was shared widely on social media. 
The BJP leader had, however, termed the allegations baseless. "It is a conspiracy to malign my image by making false allegations," he had said.
(With inputs from agencies)