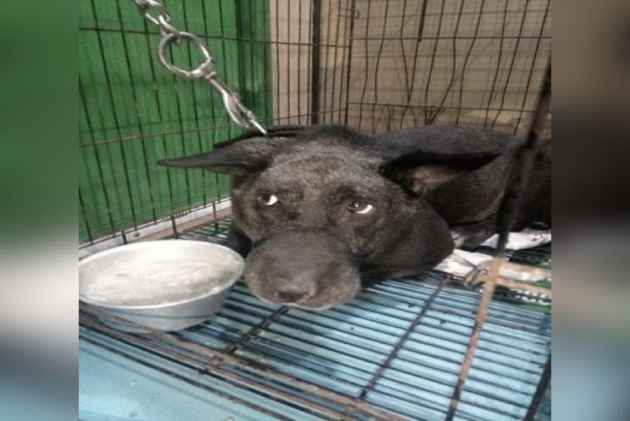 Days after deaths of 11 family members in Delhi's Burari, Chundawats have now lost their pet dog, who was the only survivor in the mysterious case. 
Not even a month has passed since the case sent shockwaves across the nation, Tommy, the pet dog of the Chundawat family, has passed away reportedly due to a heart attack. 
Tommy was tied on the terrace and suffering from high fever when the police found him after discovering the 11 bodies. 
Noida-based animal activist Sanjay Mohapatra had adopted Tommy, 6, an Indian-Pitbull mix breed. 
After being rescued, Mohapatra and his team worked relentlessly on Tommy's health and he almost completely recovered from physical problems. But Mohapatra says, Tommy never recovered from the shock of losing his family.
Earlier in Delhi's Burari case, 11 members of a family were found dead at their residence. Post-mortem report revealed that all the members of Chundawat family died due to hanging. 
The bodies of 10 members of the family were found hanging from an iron mesh attached to the ceiling on July 1, while that of Narayan Devi was found lying on the floor in another room of the house.
Narayan Devi's daughter Pratibha (57) and two sons -- Bhavnesh (50) and Lalit (45) -- were among the deceased. Bhavnesh's wife Savita (48) and their three children -- Neetu (25), Maneka (23) and Dhirendra (15) -- were also found dead. 
The others found dead were Lalit's wife Tina (42), their 15-year-old son Dushyant and Pratibha's daughter Priyanka, who got engaged last month and was supposed to get married by the year-end. 
The police said that the hands of Lalit, his wife Tina and his elder brother Bhavnesh were found tied loosely in the front, while the hands of the other members were tied behind their backs. 
The police had also found 11 diaries, which contained "psychological musings" and certain things written about the "road to god".