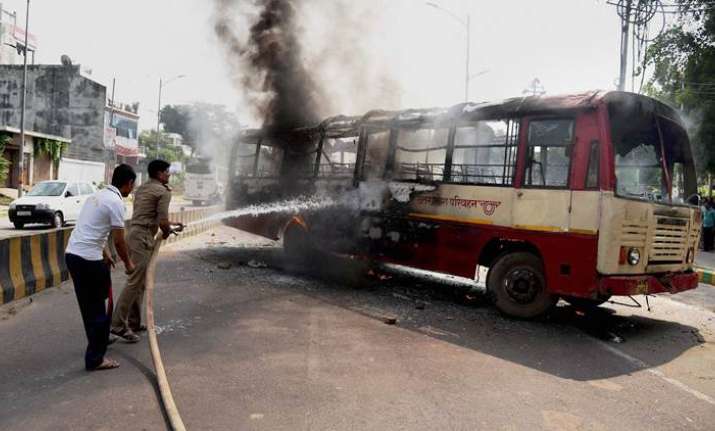 Violent protests broke out in Uttar Pradesh's Allahabad on Tuesday after a leader of the Bahujan Samaj Party (BSP) was shot dead early this morning. Agitators set ablaze two buses and damaged a private hospital. 
Heavy police force was rushed near the India Press Crossing to control the situation. Accordin g to the police, the situation was tense and they were trying to control the violent mob. 
Initial investigation revealed that BSP leader Rajesh Yadav, who had contested the Assembly elections this year, was shot dead at about 2:30 am outside the Allahabad university's Tarachand Hostel, where he had gone to meet someone along with a friend, Dr Mukul Singh. 
There he reportedly had an altercation with some people, following which unknown assailants opened fire at him.
 
Dr Singh rushed Yadav to a nearby hospital where he succumbed to his injury. 
The police said that the assailants escaped, and two empty cartridges were found inside the BSP leader's SUV. 
Following Yadav's death, some 50 enraged BSP workers staged a violent protest and attacked a hospital, ransacking it and also allegedly attacking journalists there. 
They then set ablaze two UP Roadways buses near the city's Indian Press Crossing. The violent protests were centred around the Georgetown and Colonelganj areas of Allahabad.