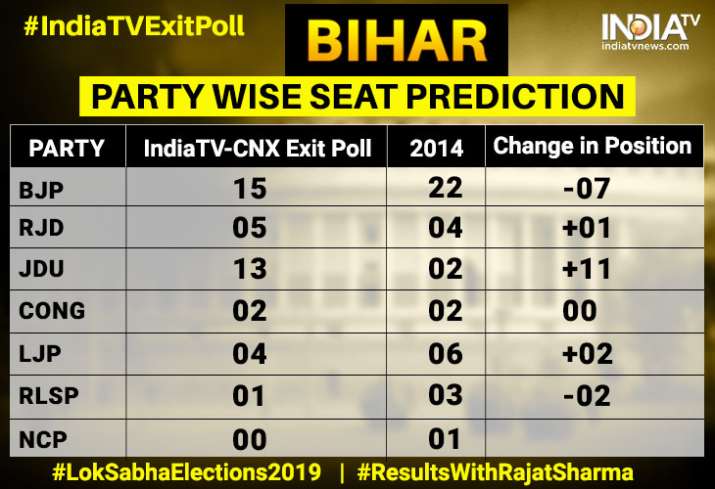 The India TV-CNX Exit Poll has predicted a massive win for the NDA in Bihar with a total of 15 seats for the BJP and 13 seats for the Janata Dal United. 
However, JDU will emerge stronger than BJP as its seat tally is likely to rise to 13 from just 2 in 2014 Lok Sabha elections. BJP had secured victory on 22 seats in the 2014 election, but is likely to get reduced to 15 this time around. 
Rashtriya Janata Dal (RJD) is likley to bag 5 seats while its Mahagathbandhan ally Congress is predicted to win 2 seats. 
India TV-CNX Exit Poll predicts that vote share of RJD and Congress will fall by 3.71 per cent and 1.44 per cent respectively.
In 2014 Lok Sabha election, the Bharatiya Janata Party (BJP) won 22 seats in Bihar. This was followed by Lok Janshakti Party (6), RJD at 4 and the rest were won by smaller parties in the state.
Bihar Vote share as predicted by India TV-CNX Exit Poll
Party
% CNX Survey Results 
2014
Swing of Votes
BJP
22.81
29.86
-7.05
RJD
16.75
20.46
-3.71
JDU
19.50
16.04
+3.46
Congress
07.12
08.56
-1.44
LJP
05.58
06.50
-0.92
Others 
28.24
18.58
+9.66

 
Bihar seat prediction | India TV-CNX Exit Poll
Party
CNX Survey Results 
2014
Change in Position 
BJP 
15
22
-07
RJD 
05
04
+01
JDU 
13 
02
+11
Congress
02 
02 
00
LJP 
04 
06
-02
RLSP
01
03
-02
NCP
00
01
-1
 
India TV-CNX Exit Poll is based on surveys conducted in 542 out of 543 Lok Sabha seats in the country.
The sample for the survey was drawn using a multi stage Stratified Random Sampling Technique. CNX, a Delhi based research & Survey Company, conducted a post-poll survey for India TV. The findings of the survey reported here are based on an Exit poll survey conducted where polling was held in seven phases. The survey team visited the randomly selected polling station going deep into by-lanes and meeting people from all walks of life.
The state went to polls in all the seven phases.
The constituencies that voted in seventh phase of the Lok Sabha Election are Nalanda, Patna Sahib, Pataliputra, Arrah, Buxar, Sasaram, Kurakat, Jahanabad.
Over 49 per cent voter turnout was recorded till 3 p.m. on Sunday in polling for 59 seats in the seventh and final phase of the Lok Sabha elections.
In Bihar, the RJD-Congress alliance (along with other smaller parties) is fighting the NDA coalition comprising Nitish Kumar's JD(U), BJP and Ram Vilas Paswan's LJP.