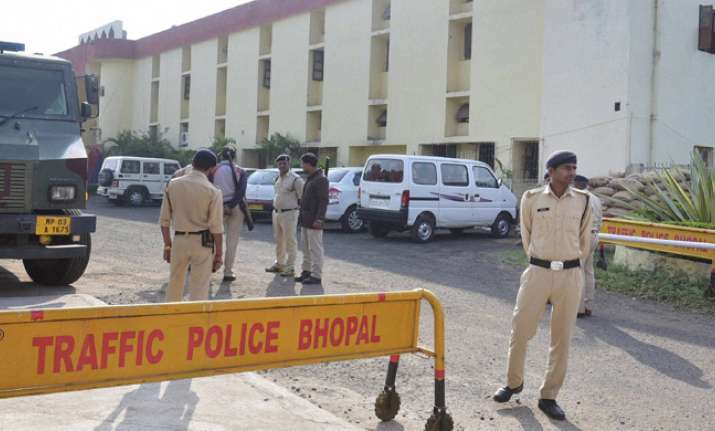 A total of 80 personnel, including over 70 sentries, who were supposed to guard the Bhopal Central Jail where eight terror suspects belonging to SIMI managed a daring prison break last week before being gunned down hours later, were posted on VIP duties by authorities.
According to a report in Hindustan Times, no less than 71 sentries, who should be guarding the Bhopal jail, are working for bureaucrats, senior police officials or in government offices — and, even, former jail ministers.
Besides, six sentries work for a deputy IG, while it is five each for an additional IG, a deputy IG of jails and central jail superintendent. Three sentries work for another DIG (jail).
The Chief Minister's office, too, has a sentry from the jail. So has the office of a Deputy Secretary to the CM. The Jail minister has two sentries, while the Director General (Jail) has one.
For around 3,300 prisoners at one of the state's most high security prisons, there are just 139 guards.
"I think you are exaggerating.I have a driver and two people in my office...I don't know about the rest but can't be what you are saying. But I still will investigate," Jail Minister Kusum Mehdele told a leading news channel.
Long after midnight on Diwali, the men used a dozen keys made from toothbrush handles to free themselves from their cells. They tied up one guard and slit the throat of another policeman using sharpened pieces of steel plates, dumping both in cells. They then climbed two walls around 30 feet high with bedsheets strung together before running away.
Within a few hours, the suspects were tracked down in a nearby village and killed in an alleged encounter with police.
Reeling under pressure from opposition parties and from several questions raised by mobile videos, the Madhya Pradesh government today ordered a judicial probe into the sensational Bhopal jailbreak incident by eight SIMI operatives and their alleged encounter.