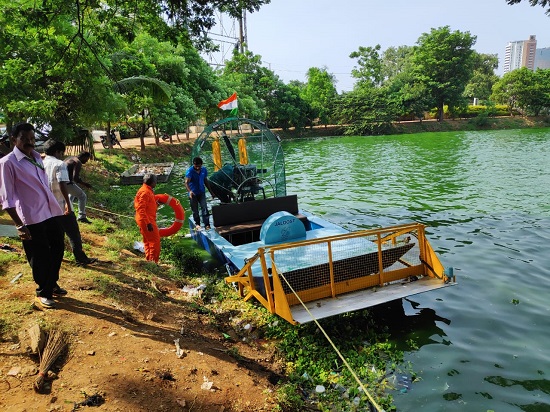 The National Aerospace Laboratories (NAL) launched "Jaldost Airboat" to remove weeds from lakes which weighs 650 kg. 
This boat uses stainless steel cutter. It is installed in the airboat and facilitates cutting of rooted weeds in water bodies. 
The system uses hydraulic power from the engine to cut weeds and are fitted with equipment to scoop them up. A stainless steel cutter is installed with a width of eight feet on the leading edge of the collection scoop.
The boat which was launched in the Ulsoor lake is a prototype. The boat can accommodate one crew member and three passengers.
The airboat is constructed using technology used in low-cost aircraft. Since there are no moving parts below the water surface, there is no risk of entanglement with objects under water which are not easily identifiable.
'Jalboat' can travel in locations where conventional boats are not practicable.