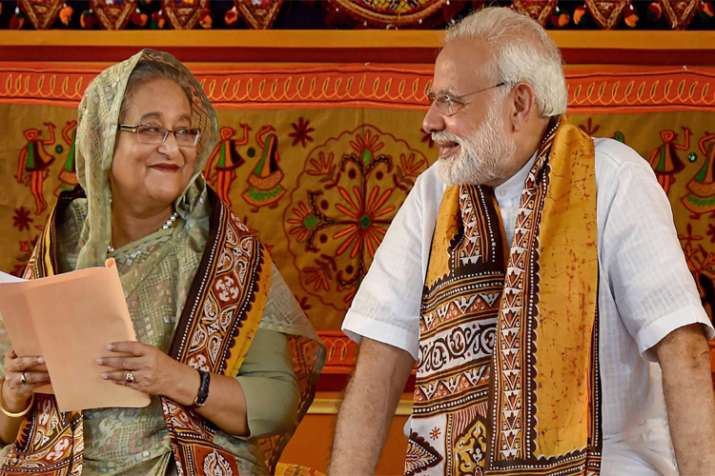 Bangladesh Prime Minister Sheikh Hasina, in presence of Prime Minister Narendra Modi, on Friday said that India, along with other countries, should play a key role in ensuring the safe repatriation of the Rohingya refugees back to Myanmar, according to news agency ANI. 
Addressing a gathering at the newly-inaugurated Bangladesh Bhavan along with her Indian counterpart Narendra Modi in Kolkata, Hasina said that her government had provided humanitarian support to the Rohingyas, adding that international pressure should be mounted on Myanmar to take back the refugees to their country safely. 
"Rohingyas have taken shelter in Bangladesh. We have given them a place on humanitarian grounds. We want them to return to their country as early as possible. I request you to help us to interact with Myanmar so that they take Rohingyas back," Hasina was quoted by ANI as saying. 
According to the United Nations, the humanitarian crisis caused by escalating violence in Myanmar's Rakhine State has forced several lakh Rohingyas to cross the border into Bangladesh's Cox's Bazar. 
Not only has the pace of arrivals since August last year till April has made this the fastest growing refugee crisis in the world, the concentration of refugees in Cox's Bazar is now among the densest in the world.
Following the violence in Rakhine, thousands of Rohingyas fled to India, who are now settled in Jammu, Hyderabad, Haryana, Uttar Pradesh, Delhi-NCR and Rajasthan. 
Both Bangladesh and Myanmar have agreed on a repatriation plan to ensure the safety and security of the Rohingyas back to their country within a specified time frame. 
The Bangladesh PM hailed India for standing beside her country in times of crisis and said negotiations in an amicable way have led to the resolution of many bilateral issues. 
In the past, the two countries had settled border disputes with the signing of Land Boundary Agreement for exchange of enclaves, she said. 
"Together we have resolved many bilateral issues in an amicable way for the benefit of both the countries. Although there are issues that still need to be taken care of, I do not wish to mention them at this programme," Hasina said.
"We shall never forget how India stood beside us during 1971 liberation war," she added. 
Bangladesh was working hard to alleviate poverty in the region, which poses a major problem for a developing country, Hasina said. 
"We are getting all cooperation from India, as both the countries want to alleviate poverty in this region. By 2041 we want to develop Bangladesh into a 'Sonar Bangla' (Golden Bangladesh)," she asserted.
Hasina lambasted the erstwhile West Pakistan's "oppressive" rule over Bangladesh claiming that its forces had suppressed the cultural heritage of the Bengalis and Rabindra Sangeet (Tagore Songs) was banned in the country. 
She added that when the Pakistani forces were committing genocide on the people of Bangladesh, Gandhi had intervened in the middle and ensured that the Pakistani forces did not succeed. 
Remembering Rabindra Nath Tagore, Hasina said the bard had built the university to give shape to his ideals. 
"Tagore belongs to both India and Bangladesh because he has written the national anthems of both the nations. He wrote most of his poems in Bangladesh and that is why we can claim a greater right over him," she added.
The inauguration of Bangladesh Bhavan inside the Vishwa Bharti University complex took place in the presence of West Bengal Chief Minister Mamata Banerjee. 
The Bangladesh Bhavan features a museum that showcases renowned poet Rabindranath Tagore's association with that country, the Liberation War of Bangladesh and Indo-Bangla relations. 
It has been built at a cost of Rs. 25 crore, which was provided by the Bangladesh government. A fund of Rs. 10 crore would be given to help maintain the museum premises. 
Prime Minister Hasina, who is on a two-day visit to India, on the invitation of Prime Minister Modi, was received by Banerjee.