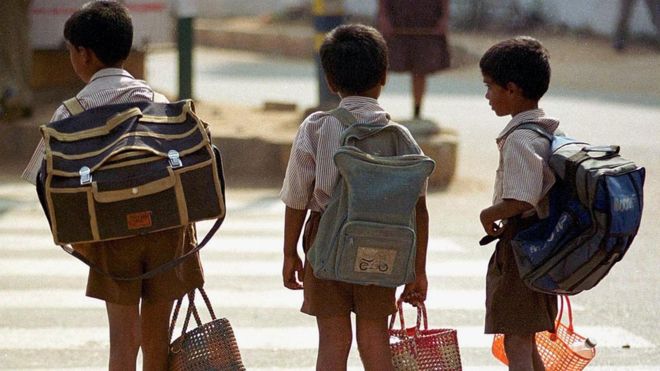 There can be many reasons for skipping school. Come to think of it and you could list endless excuses even you would have made just to have the opportunity to stay back home. The reasons behind these excuses could also be numerous.
Incomplete homework, an exam, a scary teacher or just the fact that childhood for many of us meant carrying big, heavy schoolbags every morning loaded with dozens of books and notebooks. 
While one can't really change the past, it is heartening to see if things look up for the future. One such case in point that is sure to lift you with instant optimism relates to primary class students of government schools in Chhattisgarh's Balod district.
As part of a unique initiative a few months ago, district collector Rajesh Singh Rana had a set of locker-cupboards installed for students so that they could retain their schoolbags in their class itself.
Turns out, the measure is paying off well as the freedom from the baggage of carrying school bags has led to more students getting enrolled as an impact. The 'bagless' technique has not only made the students happy but also caused a considerable rise in attendance by 2,313 students in 50 government schools in the past six months.
 
So far, the idea has been adopted in five development blocks of Balod district. Students just need to carry a notebook in which they can note the homework and the summary of what they learnt during the day. 
Tarachand Gupta, Principal at a government school in Balod, said that the 'bagless' technique has brought relief to children. Moreover, the students need not worry about books getting wet during rainy season or getting lost. 
"We installed a set of locker-cupboards for students to retain their school bags in their classes. Moreover, in Chhattisgarh, the problem of malnutrition is high and heavy school bags add to it. Students are provided with two sets of textbooks- one to study in school and another to refer at home," the Times of India quoted Rana as saying.