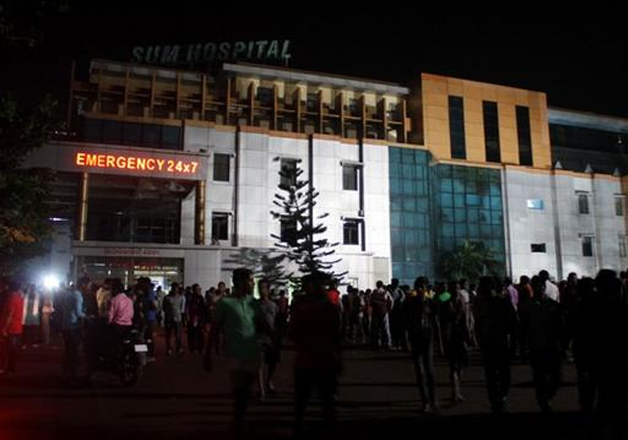 The SUM Hospital, Bhubaneswar, where a major fire broke out last night that left 20 dead, today denied any negligence on its part and termed the deadly incident an accident.
"Accidents have no explanation. You can call it bad luck," Dr JR Das, Associate Dean, SUM Hospital, told reporters.
"Believe it to be an accident… It is an accident," Siksha O Anusandhan University VC Amit Banerjee said.
Even after 18 hours of the incident of fire, no FIR has been lodged against anyone. The hospital authorities have, however, so far suspended four officials. 
Health Secretary Arti Ahuja, who visited the private Hospital this morning, said the Intensive Care Unit (ICU), dialysis and emergency units of the fire-hit medical facility have been sealed to ensure a proper investigation. 
The blaze was suspected to have been triggered by an electric short circuit around 7.30 pm in the dialysis ward on the first floor of the hospital which spread to the nearby ICU. The fire rapidly spread to other areas including the ICU on the same floor of the four-storeyed hospital building. 
Most of the victims were from the ICU of the Sum Hospital who were receiving ventilatory support. Most of the deaths took place due to suffocation.
As many as 106 persons, who were shifted from Sum Hospital following the blaze, are now undergoing treatment at different hospitals in the city, she said. Some patients have also been shifted to SCB Medical College and Hospital at Cuttack. 
Chief Minister Naveen Patnaik visited some of the hospitals including AIIMS and AMRI Hospital here to enquire about the condition of the patients from Sum Hospital undergoing treatment there. 
He has directed the government hospitals to provide necessary treatment to patients shifted from Sum Hospital and requested all private hospitals to extend treatment to patients from ill-fated medical facility. 
State's Health Minister Atanu Sabyasachi Nayak said that the priority was to provide proper treatment to the patients from the fire-hit hospital who have been shifted to other medical facilities. 
At the same time, steps are being initiated to conduct a thorough investigation into the fire that broke out last night, he said. 
The state government has already ordered a high-level probe by the Director, Medical Education and Training, into the incident. In addition, a probe by the revenue divisional commissioner (RDC) has also been ordered, an official said.