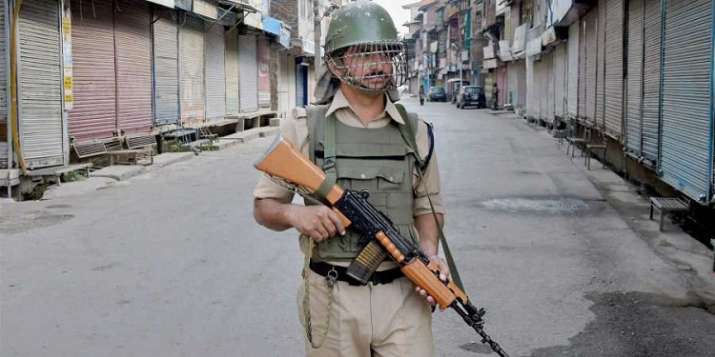 At least one person was killed after sustaining a bullet injury, while several security personnel and agitators were injured in clashes at Naharlagun as curfew was imposed by mobs in Arunachal Pradesh's Itanagar, an official said. The mobs, protesting against the government move to grant permanent residency certificates (PRCs) to non-Arunachal Pradesh Scheduled Tribe communities of Namsai and Changlang districts went on a rampage, indulging in arson and stone pelting.
A flag march by four Indian Army columns was conducted in the state capital as security forces grappled with the tense situation.
Caught in the mayhem were some 50 delegates to the first Itanagar International Film Festival (IIFF) who were evacuated after the event was cancelled.
"This was how the venue of 1st Itanagar International Film Festival went up in flames last night during the violence in Itanagar that erupted during PRC-related protests. The festival was called off and all guests were evacuated from hotel today," National Award winning filmmaker Utpal Borpujari tweeted.
The festival venue, the Dorjee Khandu Convention Centre, was vandalized by miscreants on Friday night.
Internet services were suspended for 24 hours in the area to avoid rumour mongering through social media platforms.
"Indefinite curfew has been imposed from 3 pm to maintain law and order," Superintendent of Police (Capital) M. Harsh Vardhan said on the phone.
"The situation is tense and protesters are still indulging in stone pelting. We are making efforts to restore the law and order," he said, adding more than 40 protesters have been arrested.
One person was killed but the circumstances of his death are yet to be ascertained, Vardhan said. 
"We are not sure how the person died as the mob were indulging in firing at the police," he added.
Protesters had set ablaze 50 vehicles and damaged over 100 vehicles on Friday evening. More than 35 people, including 24 police personnel, were injured in the stone pelting, police said.
Eighteen students' bodies and civil society groups are protesting against the Pema Khandu government's move to grant PRCs.
The agitating groups alleged the joint high power committee (JHPC) led by Environment and Forest Minister Nabam Rebia, constituted to look into the matter, had submitted its report without proper verification of facts and this should be rectified before it is tabled before the Assembly.
Appealing people to remain calm and maintain peace, Chief Minister Khandu said: "The government has decided not to take up the PRC matter in the current Assembly session."
The recommendation made by the JHPC was supposed to be tabled in the Assembly on Saturday, but the Speaker adjourned the House sine die.
Union Home Minister Rajnath Singh spoke to Khandu and discussed the prevailing situation amid ongoing protests in certain parts of the state. Singh urged the people to remain calm and maintain peace.