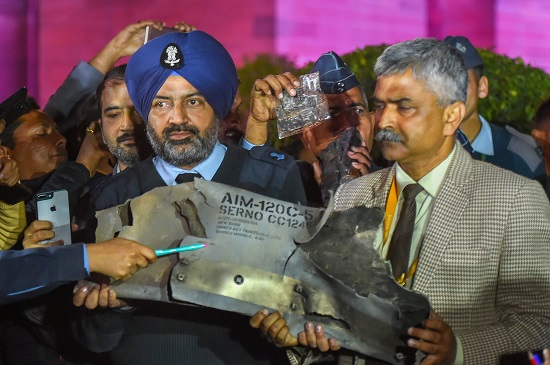 Pakistan's clamant lie that F16 jets were not part of the aircraft formation that violated Indian airspace on Wednesday was bashed by the Indian Air Force a day after.
A wreckage of AIM-120 AMRAAM (Advanced Medium-Range Air-to-Air Missile), fired at India by Pakistani Air Force's F-16 fighter plane was spotted by the Indian Army on Thursday. As per the report, the debris was recovered by the army on the Indian side. 
Here ia all you need to know about AMRAAM:
# The AMRAAM is the world's most popular and sophisticated air-to-air missiles produced by American defence company Raytheon.
# It is a modern American beyond-visual-range air-to-air missile (BVRAAM) capable of all-weather day-and-night operations.
# These missiles are used in F-15, F-16, F/A-18, F-22, Typhoon, Gripen, Tornado and Harrier fighter jets.
# When an AMRAAM missile is launched, NATO pilots use the brevity code Fox Three.
# More than 14,000 AMRAAM missiles have been produced for the United States Air Force, the United States Navy, and 33 international customers.
# Its mature seeker design allows it to quickly find targets in the most combat challenging environments.
# In early 2006, the Pakistan Air Force (PAF) ordered 500 AIM-120C-5 AMRAAM missiles. 
# The PAF got the first three F-16C/D Block 50/52+ aircraft on July 3, 2010 and first batch of AMRAAMs on July 26, 2010.
# The AIM-120 AMRAAM missiles have been used till date only by US Air Force in Bosnia, Iraq and Syria.