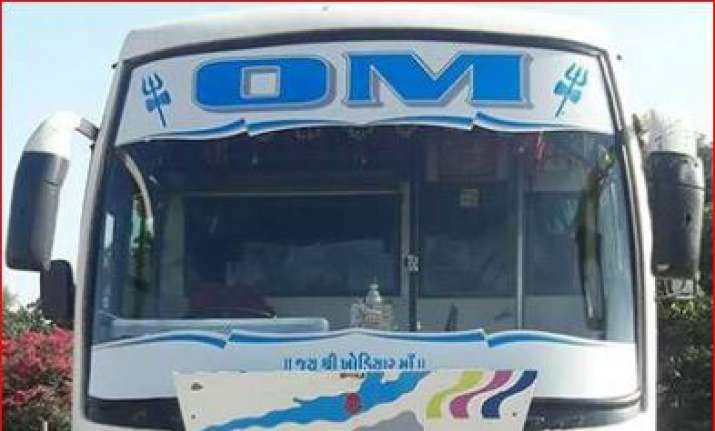 Preliminary enquiries into Amarnath Yatra terror attack has revealed that it was the "irresponsible" approach of the ill-fated bus driver and its passengers that exposed them to Monday's terror attack in which seven pilgrims were killed and 32 injured.
According to top security officials, the bus was neither registered with the Amarnath Shrine Board nor had it adhered to the security detail which is compulsory for the pilgrims in view of the terror threat. 
The security officials further said that the people on board the bus bearing the Gujarat registration number GJ09Z 9976 had completed the yatra two days back and were in Srinagar since then, deviating from the Amarnath yatra route which goes to Jammu.  
Also, despite the sensitive security situation prevailing in Kashmir, the bus was on its way to Jammu at night, which is not permissible as it exposes the vehicles to terror attacks, they said. 
The bus came under terrorists' fire near Khanabal in Anantnag district at around 8.20 pm, over one hour after the patrolling by the security forces on the Srinagar-Jammu national highway is wound up, the officials said.  
All vehicles carrying Amarnath pilgrims are provided security cover when they move in a convoy but the security agencies had no information about movement of this particular bus, the officials said. 
The normal timings for movement of vehicles from Pahalgam towards Jammu is in the forenoon as the authorities ensure that they leave Kashmir by 1 pm. 
The officials said that in view of Monday's incident, the security measures will be reviewed further.  The 40-day yatra began on June 28 and thousands of personnel from the Army, the BSF, the CRPF and state police have been pressed into service to ensure its security. 
The last time the Amarnath yatra was targeted was on August 1, 2000. The terrorists had then struck in Pahalgam area, killing 30 people, who also included porters.
(With PTI inputs)