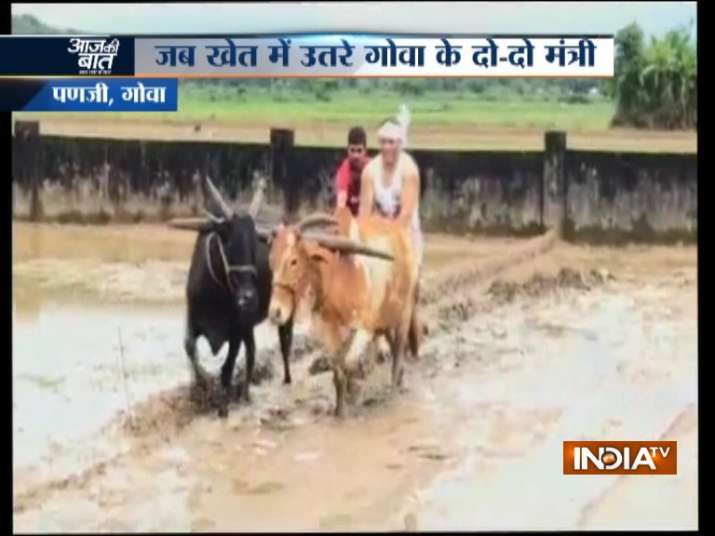 In a pleasant surprise, ministers and politicians of Goa, cutting across party lines,  are venturing into paddy fields these days to help the farmers who are currently planting saplings after the onset of monsoon.
It all started after Siddhesh Bhagat, sarpanch of Aquem-Baixo panchayat, threw an 'agriculture challenge' at the ministers and politicians of the state.
In a video uploaded on the social media, Bhagat asked the ministers of Manohar Parrikar Cabinet as well as other political leaders to spend at least a day with farmers in their agriculture fields so that they could get to know the hardship faced by the farmers of the state.
After Bhagat's 'agriculture challenge', at least two members of Parrikar Cabinet- Revenue Minister Rohan Khaunte and Agriculture Minister Vijai Sardesai-  and one Congress MLA were seen toiling land in paddy fields along with farmers.
Congress MLA Aleixo Reginaldo Lourenco was the first one to take up the challenge, thrown by Siddhesh Bhagat, the sarpanch of Aquem-Baixo panchayat in South Goa to create awareness about farming.
The legislator from South Goa's Curtorim constituency went on a tractor in a paddy field which was being prepared for sowing. A video of the MLA driving tractor in the field has appeared on social media.
"I accepted your farming challenge Siddhesh Bhagat, my heart is always in fields with my farmers. They are my family," he said on June 30, passing on the challenge to Revenue Minister Rohan Khaunte, an Independent lawmaker.
Thursday morning, Khaunte was seen in a field in his constituency of Porvorim near Panaji taking up the challenge.
"Challenge accepted! The farming community has always been dear to me and I will always strive for their prosperity," said Khaunte, passing on the challenge to former Chief Minister and sitting Congress MLA Luizinho Faleiro.
Watch: Goa ministers, politicians venture into paddy fields
Meanwhile, Agriculture Minister Vijai Sardesai, who was seen planting saplings in a field in his constituency of Fatorda in South Goa, said his act had nothing to do with the `agricultural challenge'.
"This may look like farmers' challenge. But this is not about tokenism. The real challenge is to bring uncultivated land in the state under cultivation," said Sardesai, who belongs to the Goa Forward Party.
The minister said mechanisation of farming is one of the ways to encourage the young generation to take up agriculture as a profession.
The government has been providing incentives for mechanisation of farming. As part of incentives, the state is giving a financial aid of Rs 19,500 per acre to farmers, Sardesai said.
"Last time we took 800 acres of land under mechanised farming. The government wants Goans to become service providers for all agriculture operations - right from crop transplantation to harvesting," Sardesai said.
(With PTI inputs)