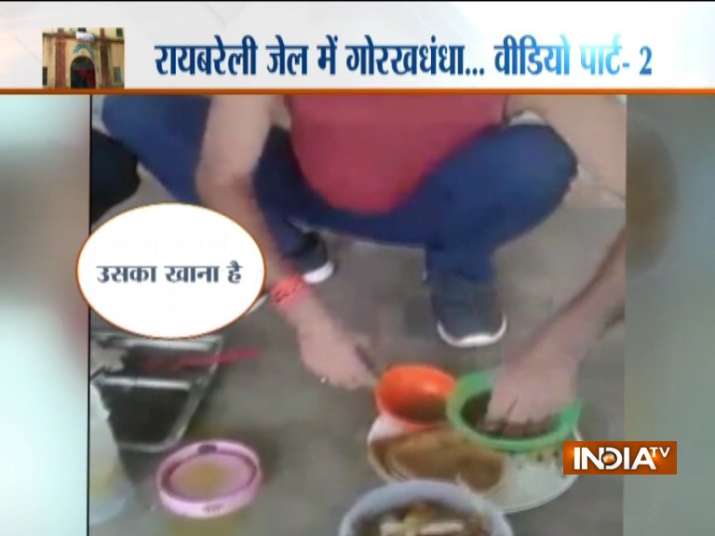 After a video surfaced showing inmates having drinks at Raebareli jail on Monday, another video emerged on Tuesday where prisoners are alleging that everything was facilitated by jail authorities.
The video released yesterday showed one of the inmates calling someone using a mobile phone to order liquor, and another threatening someone displaying a weapon to extract money.
In a new video released by the prisoners on Tuesday, the inmates are revealing that the food is ordered from a hotel run in the jail itself. 
Any inmate who orders food from the hotel, gets it in his barrack. You just have to make the payment, that is how they are earning lots in a day, one of the prisoners was heard saying. 
In the video, prisoners were also seen showing the poor condition of food they are served in jails. They also feared being killed after the release of the videos.
"Jails are running in a poor condition, there is no change. After releasing this video, we might just be tortured or killed," one of the prisoners said.
After yesterday's video went viral, all of the jail inmates were shifted to other jails while six officials were suspended including a senior jail superintendent. An FIR was also lodged against them under various sections of the IPC and Prisons act.
The jail authorities in Uttar Pradesh had faced a lot of flak after imprisoned mafia don Munna Bajrangi was shot dead by his rival inside the Baghpat jail in July.
Jails in the state are already plagued by problems such as over-crowding, staff shortage and porous security, with frequent reports of liquor, weapons and mobile phones getting sneaked inside.
In many jails, CCTV cameras, metal detectors and manual scanners do not function properly, a committee set up to probe the state of affairs in UP prisons had state noted.
The fresh incident was reported at a time when the jail administration was in the process of upgrading prisons with multi-level security system and installation of machines to check clandestine entry of illegal weapons - both firearms and sharp edged weapons to end the bloody battles in jails and inmates being killed while being taken to court for hearings.
FULL VIDEO: