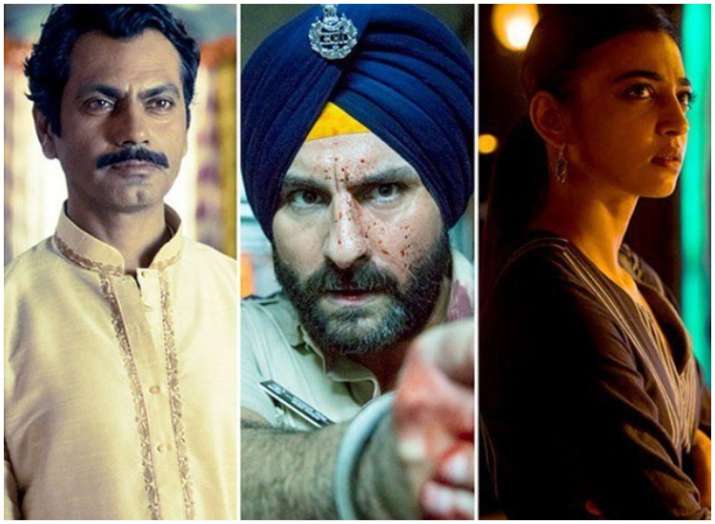 Actors cannot be held liable for the dialogues in a show, Delhi High Court on Monday said while hearing a petition demanding that certain scenes from Netflix series Sacred Games be deleted as they allegedly defamed late Prime Minister Rajiv Gandhi.
The court said a person is entitled to express his views, which may be right or wrong, and asked the petitioner to satisfy it on how the court could interject. 
"Are there other remarks in the series or any other material as far as Rajiv Gandhi is concerned? You don't require any CBFC certificate before airing?" the bench asked. 
The court was hearing a plea filed by petitioner advocate Nikhil Bhalla, through advocate Shashank Garg.
It contends that the show, starring Saif Ali Khan and Nawazuddin Siddiqui, "incorrectly depicts historical events of the country like Bofors case, Shah Bano case, Babri Masjid case and communal riots". 
A bench of Justices Sanjiv Khanna and Chander Shekhar aid it has gone through the CD of the series, placed on record by the petitioner, and there was nothing urgent in it as all the episodes have been aired. The matter was adjourned to Thursday. 
Senior advocate Chander Lal, appearing for Netflix, and senior advocate Rajiv Nayar, representing production house Phantom, said the series has eight episodes that have already been aired and does not require a CBFC (Central Board of Film Certification) certificate. 
The plea has alleged that certain scenes and dialogues in the show defamed the late Congress leader. 
The plea has sought directions to Netflix Entertainment, the show's producer -- Phantom Films Production Ltd -- and the Centre to ensure "in toto" removal of the allegedly offensive scenes and derogatory remarks made directly or indirectly against the former prime minister or his family. 
The first season of the show, comprising eight episodes, was released on July 6 and is available in 190 countries in four languages, the petition has said. 
(With inputs from PTI)