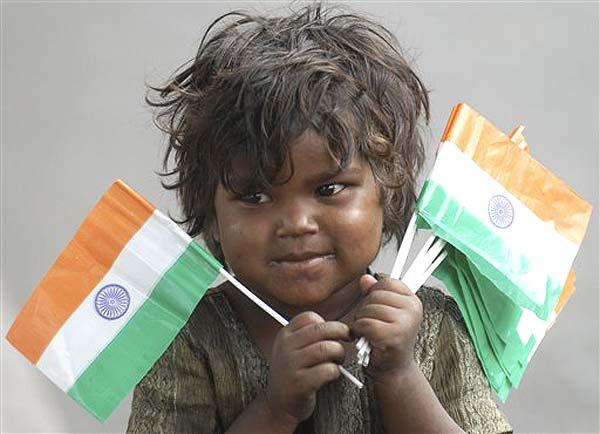 It was 70 years ago that India made its tryst with destiny, and awakened to a life of freedom on August 15, 1947. The path to freedom was not easy and took countless days of struggle and innumerable  sacrifices to see this day. When the British left India, its economy was in dire straits, poverty was widespread and barely 12 per cent of our population was educated. The responsibility was enormous.
India not just had to develop and become self-reliant, it also needed to hold on to the values that defined the idea of India. 
India's 70 years could be divided into two parts – India before 1991 and India after 1991. In the first 45 years, India witnessed slow economic growth with heavy dependency on agricultural sector, fought multiple wars and was in high debt. The giant leap forward came after the Narsimha Rao government liberalised the economy in 1991 ushering in a new era of Liberalization, Privatisation and Globalisation. 
Today, India stands as the second fastest growing economy as well as the most vibrant democracy in the world.
However, these seven decades have also defined India as a land of dichotomies. True, India has taken great strides from where we stood in 1947, but there are also areas that – in many ways – stay just the way they were. By all measures, there is significant distance to be covered before India can take true pride in being called a great nation.
Here are 10 perennial challenges that India needs to tackle to make the country a better place.
 
1) India Pak Relationship: India's tumultuous relationship with Pakistan has witnessed little change since independence. In the last 70 years, we have fought four wars, signed several treaties, with Kashmir being the centre of all Indo-Pak conflict; barring 1971 war which led to the liberation of Bangladesh. We also have had multiple cultural exchanges but we continue to see each other with suspicious eyes. Post-independence, both the countries started from scratch but India went on to become a major economic power while Pakistan's  condition went from bad to worse. Indian leadership has often relied on the civilian government for improving ties with Pakistan but as it has been proved time and again that Pakistan's powerful army takes the shots when it comes to devising a strategy for India. Numerous engagements and initiatives on part of India have yielded little. Terror strikes from Pakistan continue unabated and Pakistan, like previous years, does little to admit, let alone check them.
2) Kashmir: The enormity of the Kashmir problem could be gauged by the ongoing protest in the valley where 55 people have died in the clashes with security forces after the death of Lashkar militant Burhan Wani. With Pakistan sponsored infiltrators and propaganda, a section of separatists are vying for an independent Kashmir. While Pakistan knocks doors of UN for a plebiscite, it forgets that the primary condition for public mandate would require Pakistan to vacate its forces from J&K which it never did. Article 370 gives special autonomous status to J&K, thus the state's residents live under a separate set of laws. Except for defence, foreign affairs, finance and communications, Centre has to seek approval of state legislature for applying all other laws. Successive governments have tried dealing with the problem in their own ways, but have had no success.
3) Education: With the literacy rate going over 74 per cent in 2011 Census from a dismal 12 per cent when British left us, it's a big leap forward. However, the drop in the illiteracy rate has not been matched with the exponential growth in population. According to a 2015 UNESCO report, in terms of absolute numbers, India - with 28.7 crore illiterates - was the country with the largest number of adults without basic literacy skills in 2010-11. Also our education system needs to get rid of the pyramid structure where much impetus is laid on primary education but it simply squeezes out students because of unavailability of seats and lack of resources at higher levels. It is further substantiated by a UNICEF report that said the school dropout scenario in the country is "extremely high" as over 80 million children are not completing the full cycle of elementary education. India is also among 135 countries in the world to make Right to Education a fundamental right but controversy have marred its implementation.
4) Healthcare:  We have come a long way since Independence even as we face multiple challenges in health sector.   While life expectancy was around 37 years in 1951, it almost doubled to 65 years by 2011. We have also managed to get rid small pox in 1975, polio in 2014, and maternal and neonatal tetanus in 2015. But India's health services and health personnel, besides being grossly inadequate, are inequitably distributed across and within states. Also the quality of healthcare is in serious jeopardy as a severe shortage of medical professionals in the field leads to sub-optimal health outcomes. India still spends only around 4.2 per cent of its national GDP towards healthcare goods and services (compared to 18 per cent by the US).
5) Women empowerment: Although women have come a long distance since the days when they were not allowed to come out of their homes, they still have to break free from vicious grips of social, economical, political, caste and gender-based discrimination. The patriarchal set up where the man is believed to be superior has much to do with the condition of women in our country. A girl child is in danger even in her mother's womb. According to CSO's 2012 report, female child population in the age group of 0-6 years was 78.83 million in 2001 which declined to 75.84 million in 2011 which has resulted in a skewed child sex ratio. This alarming change in child sex ration can be attributed to sex selective abortion which is rampant in India despite laws prohibiting it.
6) Ram Mandir: The  contentious issue of Ram Mandir is one of the major challenges faced by modern India. The demolition of Babri Masjid on December 6, 1992, led to a spate of communal violence across India, Pakistan and Bangladesh. The demolition remains a big blot on secular fabric of India. On December 30, 2010, the Allahabad High Court awarded two-thirds of Ayodhya site to Hindu parties, and one-third to Waqf Board, an order which was subsequently stayed by the Supreme Court of India. The case has remained in limbo ever since.
7) Pending cases in judiciary: The Indian judicial system which is the most revered among four pillars of Indian democracy has a pendency of 2.18 crore cases with 27% (59.3 lakh) cases pending for over five years. There are several reasons which has led to this situation including acute shortage of judges, improper data management, lack of technological penetration in judiciary, slow climb up of cases, and so on. As on January 1, 2016, according to Court News, there were 16,119 judges in the subordinate judiciary, 598 in high courts and 26 in the Supreme Court. According to CJI T S Thakur, Indian court needs over 70,000 judges to speed up the disposal of cases. But if we fill in, would it be possible to accommodate all of them since there are currently only 16,513 courtrooms in our country?
8) Corruption : Corruption is the biggest stumbling block hampering the growth of Indian economy as it blurs the line between real growth and growth on paper. It is often referred to as a consequence of the nexus between bureaucracy, politics and criminals. It is well known fact that corruption plagues India from highest to the lowest level. In general, the root of corruption is often need based but it gradually becomes greed based. So better governance can take care of the need based corruption. There was a time when bribes were paid to get wrong things done, but today one has to pay for getting what legitimately belongs to him. No wonder then that despite 69 years of our independence, India ranks 76th out of 168 countries in Transparency international's 2015 Corruption Perception Index.
9) Agriculture: After the 1991 LPG reforms, while industrial and service sector took giant leaps, the agricultural sector which still employs 60% of working population directly and indirectly languished behind. The death toll of farmers and agricultural labourers on December 31, 2014 stood at 12,360 in India. In 2015, only Maharashtra witnessed 3,228, suicides with 1,541 farmers from Vidarbha region only.  With an abysmal growth rate of 1.1% , agriculture in India is marred by drought, lack of skills, late monsoon, fragmented farming, non-implementation of schemes on grass root levels, which results in low productivity. Also when the production is good, the farmer has to fight for the right price as the middlemen buy the food grain in pennies and then make a fortune out of it.
10) Malnutrition: It is nothing short of an irony that a country which claims to be one of the fastest growing economies in the world is also prone to levels of malnutrition that arte even higher than parts of sub-Saharan Africa. Although poorest of families can avail the quantity of food needed to feed an infant, but still we continue to be among the worst in the world. It could be attributed to various factors including neglect of health, limited reach of public child care services and  lack of pre-natal and post natal care. Estimates for India reveal that 20 to 30 per cent of babies weigh less than 2,500 grams at birth, up to one-third of Indian women suffer from Chronic Energy Deficiency. According to Rapid Survey on Children (RSoC) 2013-14, which is conducted by Ministry of Health and Family Welfare, India has 38.7% stunted, 15% wasted, and 29.7% underweight children below 5 years (45%, 23% and 40% respectively for children below 3 years). In a ranking of countries from lowest to highest on stunting, India ranks 114 out of 132 countries.