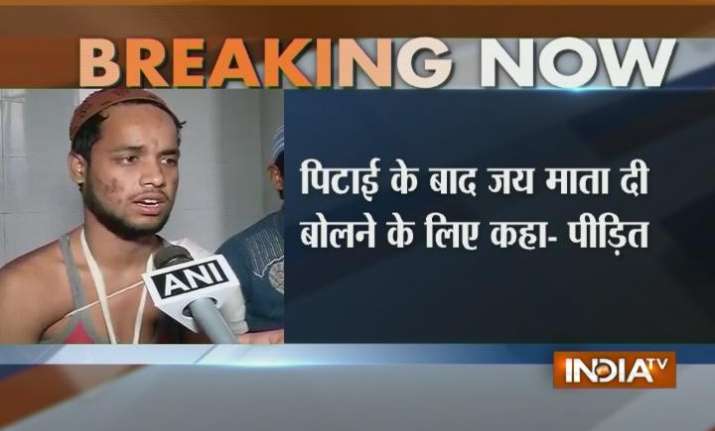 New Delhi: What seems to be another incident stoked by communal feelings, three students of a madrassa were beaten up in Delhi on Saturday, allegedly by a group of men who tried to force them to chant Jai Mata di.
One of the students, an 18-year-old, has a broken arm.
As per reports, Dilkash and his friends, Ajmal and Naeem were strolling in a park when they were thrashed for not saying 'Jai Mata Ki'.
"My friends and I had gone to Bans Wala park, some 300 metres from the madrasa, when we were attacked by a group of young men. They spotted us because we were wearing caps and asked us to say Jai Mata Ki," Dikash was quoted as saying by The Indian Express.
The police say there are "inconsistencies" in the statement of the young men, who say they were beaten when they had taken a break at a park near the madrassa.
Initially, one of the teens said he was asked to chant 'Jai Mata di', later, he said he was asked to chant 'Bharat Mata ki Jai'" the police added.
The three students reportedly called up the police control room on Saturday evening.
When policemen reached the spot, the students said they were beaten up with sticks.
The police say the teen whose arm was fractured said in his statement that he was asked to chant "Jai Mata di".
After the police recorded his second statement, they reportedly learnt that the student had told others he and his friends were asked to chant "Bharat Mata ki Jai" - a slogan that has been at the centre of a political controversy.
The teen has, however, not reported this to the police.
The police registered a case yesterday and say they are verifying details.
The police registered FIR three days after the incident on charges of assault and wrongful restraint.
"We were waiting for the medico-legal report. The case was registered on the basis of Dilkash's complaint as he had suffered a fracture. In their complaint, he mentioned that he and his friends were forced to say Jai Mata Ki," the report quoted Deputy Commissioner of Police Vikramjit Singh.
All three victims hail from Bihar's Purnia district and had come to Delhi in 2015 to study at the Faiz-ul-uloom Ghausia madrasa in Ramesh Enclave's Mohammadi Masjid.
Violence over petty issues has become rampant in the city. A few days ago a dentist in west Delhi was mercilessly beaten to death by some anti-social elements
over a road rage incident.