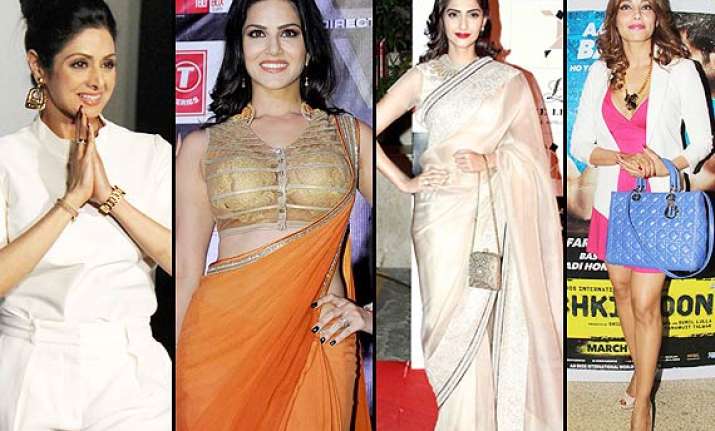 It was a tough battle this week with many Bollywood babes, who usually keep their oomph alive with their vivacious looks, failed to be consistent with their sense of style and fashion this time around.
As we had many award functions and promotional events this week, there happened to be a splash of tinsel town divas garnering limelight in the public eye.
We have had a sigh of relief after having neither Kajol nor Shilpa in our this week's list but what bothered us a bit more is the entry of
Sonam Kapoor
,
Bipasha Basu
and the repetition of
Sunny Leone
's weird wardrobe publicly.
While the other celebrities in our list include
Sridevi
and Tabu, Kalki's entry here makes us feel awful for the lady. Despite their much glamorous avatars and rocking fashion sense, even our very own Bollywood dolls can go wrong with their choice of ensembles and makeup. And that's where we stand to check them out!
Here follows the list of Bollywood actresses who could not manage and looked not up-to-the-mark this week. Clasp a look  and know what annoyed us in their respective looks!
Yes, that's exactly is our problem with the look!

Sunny, who is actually a true example of a curvaceous diva left us struggling in a turmoil when we saw her this appearance. Truly speaking, she doesn't need to highlight what anyways gets highlighted in her sassy frame.

Though we liked the saree, we are not on for the overall look!
Ok, we say only yellow and red are missing from the look! Bipash Basu was spotted at the recently held 'Dishkiyaaon' special screening.

Bipasha donned this weird combinations of white, fuschia pink and aqua blue with that statement neckpiece.

So toned her body is and so beautiful a neckline she carries, why the hell she even chose to overdo at such a marvelous frame.

And this one is the most upsetting look from 'the fashionista' so far. Sonam wore this Anamika Khanna saree at the recently held L'Oreal Femina awards and left us in utter disappointment.

Though we have no issues with the look or fro the ensemble alone; the only thing irritating us is that choice of wrong clutch that is so not going with her beautiful vintage look.

We just hope had that blouse remain a bit more fitted and she adorned this clutch by keeping it stacked in hand, we would have fallen for this look!
The gorgeous diva of Bollywood, Sridevi gave two public appearances this week. For the one in GR8! women awards, she wore a heavily embellished saree and a ton of make up.
Not that we didn't like the saree, but accompanying such a bold ensemble with layers of make-up didn't go well with the look.
And for another event, Sridevi ditched her otherwise colourful outfits and went all white. Though her up-do did wonders on her, it just the fit of the dress that takes thumbs down from her and those pair of gold earings.
Sometimes we wonder, does the actreses like Tabu spend all their time nourishing their talent and do not realise even once that they are celebrities and hence they need to look at least 'presentable.'
We have forgotten the last time we saw Tabu rocking any great ensemble with much grace as she always does with her performance on screen
This ill-fitted suit or what looks like something from someone's maternity wardrobe was donned by the brilliantly talented actress at the special screening of 'Dishkiyaaon.'
Do we need to say or explain what is wrong!
It really pinches us seeing peppy-chirpy Kalki falling flat on our stylo meter. This Roberto Cavalli maxi dress is otherwise fine but donned by Kalki, it looks so much bizarre.
The maxi fit is an example of what kind of 'fit' should you actually avoid, the overtly glittered body is also a strict nay.
We are waiting to see this lovely fashionista in her usual casual and splendid avatar!