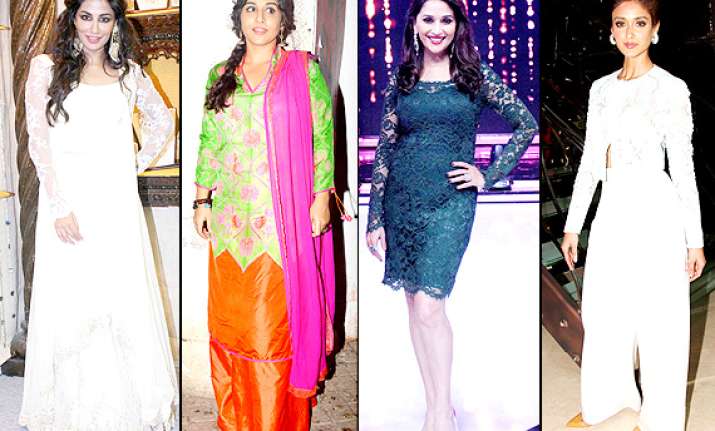 New Delhi: Vidya Balan, Madhuri Dixit, Chitrangada Singh and Eli Avram lie constitute the list of our worst dressed divas of the week.
 While the week witnessed many events high on fashion, a high notch of perfect style was thoroughly expected from these leading beauties of the industry.
Though a few ladies kept their intriguing charm alive clicking it right with their apt sense of fashion, a few others went a step ahead in the run of looking  out-of-the-league and failed to mesmerize with their respective looks.
From film's promotions to screening and other public events, these Bollywood ladies always try and to spill the effervescence of their oomph and since a few terribly failed to do so this week, they are here dazzling in our array of not-so-impressively dressed Bollywood babes.
Vidya Balan, who is on promotion spree with her Bobby Jasoos being released recently, we saw her donning various giant suits and over sized outfits. While we have got usual with seeing her in those avatars, we couldn't help resisting her way too colourful outfit this week.
That Swati Vijayvargie outfit was a visual disaster in its own.
Chitrangada Singh wore a mesmerizing Neeta Lulla creation for a launch and while she could have done wonders with the outfit, the look went flat with the mix-match of everything. With that messy hair-do, those statement earring by Curio Cottage should have been avoided.
Eli Avram made a long after appearance and while we like that the lady dared to sport such a colour, the print of the dress was a complete out of concept from our minds.
As pretty as the lady is, she could have chose something else.
Madhuri Dixit's recent Jhalak appearance saw her in a green lace dress. And while the lace dress with such similar details have been spotted many a tie over other Bollywood divas, we wonder what forced her to try this.  
She could have donned anything else suiting her vivacious curve, why repeating a dress that have spotted myriads of times from Priyaanka, Sonakshi, Deepika and Kareena.