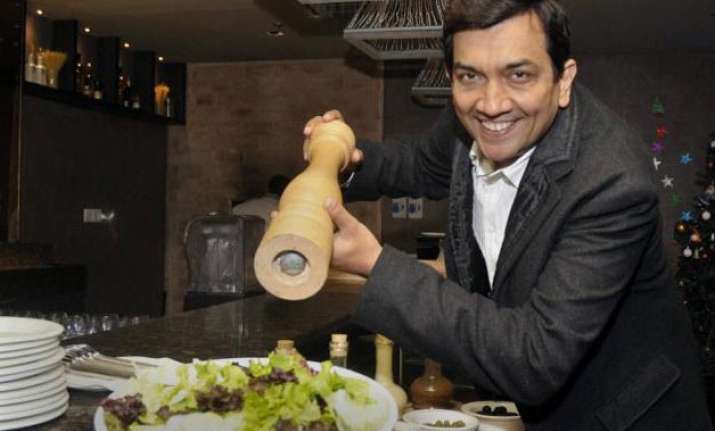 New Delhi :  Sanjeev kapoor is a masterchef who has tempted food aficionados with his culinary skills for well over 20 years. No wonder then that when you visit a restaurant by Sanjeev Kapoor, you enter it with great expectations -- and it's a fulfilling experience for the taste buds and ambience.
The menu -- both food and drinks -- boasts of creations, handpicked by Kapoor himself. And every item savoured hits the right note.
"We have a lot to offer at Sura Vie. Besides Sanjeev Kapoor's famous dishes, our menu has Continental, Chinese, Oriental and Indian cuisine. But more stress has been laid on Continental," chef Naresh of the restaurant told IANS.
"Here we give special attention to quantity and quality as we have to live up to masterchef Sanjeev Kapoor's name and reputation without fail," he added.
Located centrally at the capital's Janpath area, it's easy to access and welcomes you with perfectly balanced sources of light.
Chef Naresh planned a perfect dinner, which began with an appetising ginger mint lemonade and a 'Spicy Affair'!
Well, spicy because it was a concoction of guava and pineapple juice, spiced up with red chilli powder on the glass' rim. This one truly justified its name.
For the growling stomach, try going for the stir fried vegetable nest, which comprise crispy noodles with a filling of baby corn, capsicum, red bell pepper, broccoli, mushrooms, carrots...and basically, it's a vegetarian's delight.
If you're a fan of hummus and pita bread, you can instantly fall in love with a platter of three different dips and pita pockets. With a very fancy presentation, the plate had a pool of hummus, cucumber dip and a dip made from brinjal.
The non-vegetarian fare was a winner, especially the tandoori fish, which melt in the mouth the moment it took its rightful place -- on the salivating tongue! With good quantity, the platter had a Basa fish cut into squares of scrumptious pieces.
A Bengali friend once quipped that a restaurant should be judged by its fish dishes. By those standards, Sura Vie, a franchise taken over by Kapoor, is a must try.
The experience is made 'tastier' with its soothing lounge music.
Back to the palette! Don't leave without digging into the plum chicken. Even if you're not a fan of the sweet flavour in food, this dish may surprise you as the plum sauce does not overpower the chicken's individual taste.
As the chef informed, Sura Vie, Janpath, will soon introduce live sushi counters along with an open terrace wherein 'sigdi' food like chicken satay and other winter delights will be offered.
Before you think of wrapping up your meal, don't forget the dessert. The apple struddle, with kiwi sauce on the side, is one of the limited offerings, but surpassed the great expectations yet again