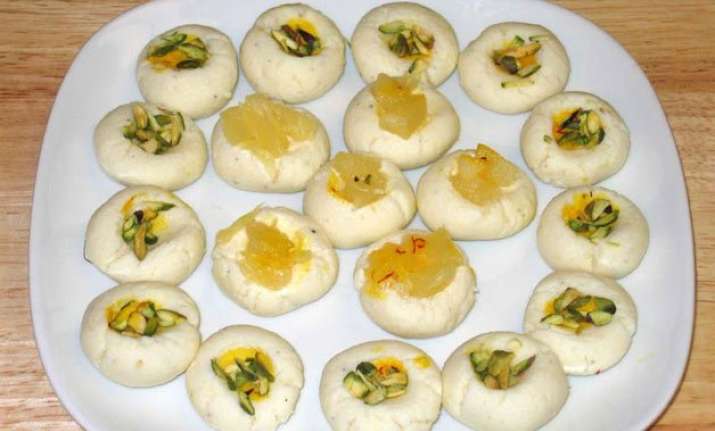 New Delhi: Amongst all the relationships we have in our lives, there is one bond that is extremely special. One bond where you can fight like enemies yet can't bear to stay away from each other.
That is the lovely relationship of a brother and a sister. A brother is the only person who can love you like a father, care for you like a mother and be your secret partner in crime just like a best friend.
And with Raakhi being around the corner, it's time to cherish this lovely bond and all those special memories associated with you and your brother, whether it's that 'khatti-meethi nok-jhonk' or some funny incidents.
Raakhi is a perfect day to relive those moments, and to express the love and gratitude to your sibling for being who he is and hence making your bond so very special.
So this year, treasure this stupendous bond of brother-sister love and surprise your brother with a 'kuch meetha ho jaaye' moment as we bring you the lip-smacking recipe of sandesh in a few easy steps.
Ingredients (for 12-15 sandesh):
Full cream milk, lemon juice, powdered sugar, cardamom (ilaichi), saffron (kesar) and pistachios
Method:  
1. Take one litre full cream milk in a heavy base vessel and boil it. When the milk starts boiling, take it off the flame and allow it to cool for a while.
2. Take the juice of two lemons and mix it with some water. Now add this lemon juice to the boiled milk little by little. Make sure you stir the milk continuously.
3. Stop adding lemon juice when the milk form a mass as milk and chena get separated.
4. Place the chena in a cloth and pour cold water over it so that there is no flavor of lemon in chena. Now lift the cloth from all sides and drain the excess water.
5. Take out the chena in a plate and mash for 5-6 minutes. Now add some crushed cardamom (ilaichi) along with some thinly chopped pistachios.
6. Add 1/3 cup of powdered sugar and some saffron (kesar) in chena and mix it well for 2-3 minutes. You can also add cashews and almonds instead of kesar.
7. Now place the chena in a non-stick pan and roast it on a low flame for 3-4 minutes. Make sure you stir the chena continuously.
8. Allow chena to cool as you place it in a plate and mix some cardamom powder in it.
9. Take a small lump from the mixture, roll and then flatten it gently to make an oval peda. Similarly, use the entire mixture to make pedas.
Garnish it with chopped pistachios. Luscious sandesh are ready.