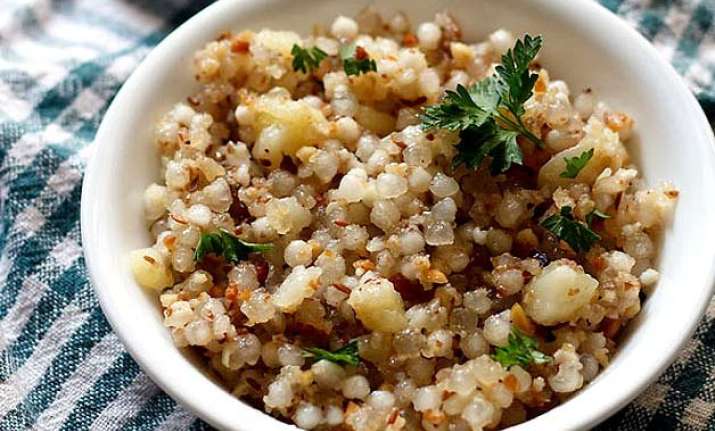 New Delhi: Navratri fasting takes a lot of courage to imply and effectively challenges your patience level. While you make sure that the time handles of your clock look briskly moving, you keep on thinking about those delicious delicacies you are about to relish later in the day.
While the quintessential food items comprising 'vratwali alu sabzi' and 'kutu ke ate ki puri' are a rare miss, ever thought how creative you could be with your 'fasting recipes!'
Well, just before you delve into one of the recipes of yours, have a look at what we have got in stores for you!
Sabudana khichadi recipe
Ingredients:
Sabudana - 1 cup
Ghee - 3 table spoon
Rocksalt - 2 1/2 table spoon
Roasted peanuts - 1/2 cup
Chilli powder - 1 1/2 table spoon
Cumin seeds (zeera) - 1 table spoon
Coriander leaves - 1 table spoon
Chopped green chillies - 1 table spoon
Red dried chilli (sabut lal mirch) - 4 folks
Method:
1. Soak the 'sabudana' for at least an hour after washing it properly.
2. Drain the water and spread it on a cloth making sure that it remains lightly moist and not get muddles up in lumps.
3. Add roasted peanuts and red chilli powder, salt to Sabudana and make a good mixture.
4. Heat ghee in a pan and cook the folks of red dried chilli and zeera in it till they both get a bit dark and then add the entire mixture prepared above in the pan.
5. Toss and mix well slowly on dim heat.
6. Extract the cooked mixture in a saucer and garnish it with fresh coriander.