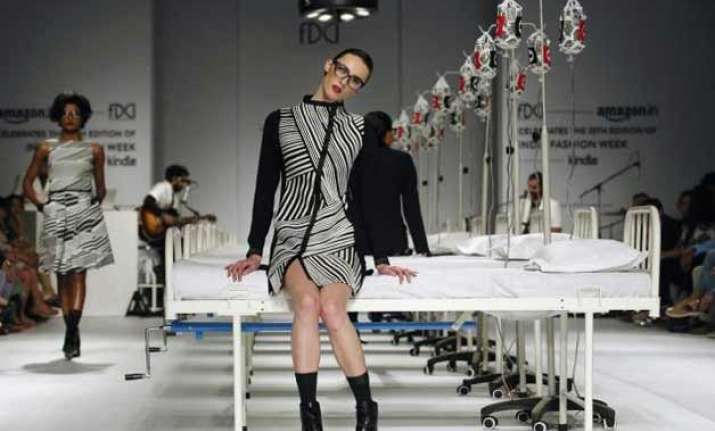 New Delhi: Most Indian fashion designers play with a gamut of colours, but Rajesh Pratap Singh prefers to to spread magic through his black and white creations. He says he wants to perfect two colours, instead of painting a riot of hues on the runway something he did in the past, but went unnoticed.
 There's usually a hint of colour here and there in his garments, but what stands out through his collection is the usage of the two stark colours - black and white.
 "I do a lot of colours, but I believe that if I can handle two colours black and white properly, then I will be okay. I still haven't been able to perfect it. In fact, if I am able to finish off the handling with even one colour, then probably I'll be happy," Singh told IANS post his show at Amazon India Fashion Week (AIFW) here, and added that he "used colours in the past, but it went unnoticed".
 Singh's romance with ikat continued with this show on the opening day of AIFW on Wednesday. It's the difficult quality of the fabric to be turned into a garment, that keeps him hooked to ikat.
 "I keep doing ikat. I love that fabric because as you know it is not easy to do, so I love doing that and take that challenge," said the designer, who has incorporated unfinished leather and ikat in his collection.
 He showcased his autumn-winter collection the ongoing editon of the bi-annual event, which celebrates India Fashion Week's 25 years of existence in the industry.
 His show was innovative in presentation with hospital beds, surgical masks, spectacles, drips and a live band, adding spunk to his show.
 The designer, who hails from a medical family, dedicated his new line to his family and all the people associated with health industry.
 "I was born into a medical family and everyone in my family stuck to this industry. I also spent a lot of time in hospital, so I know a lot, and I think it needs to be celebrated in a beautiful way. The collection is a tribute to the health workers and everything they work through," he said.
 The fashion week is celebrating its silver jubilee.
 Sharing his journey with the platform, he said: "I think we have been able to give the industry a smoother time-table... with buyers, designers, the suppliers and all the characters of our industry getting together and interacting. I think it is really required as it solves all the problems of our community. Our industry has been able to pull it through for 25 years."
 Well, the designer will be back for the grand finale of the fashion extravaganza. Singh is one of the 25 designers who have come together for "Craft of India" theme, which will bring the curtains down on the five-day gala in a befitting way.
 He will be showcasing his interpretations of the theme through two ensembles, and he promises "something different".