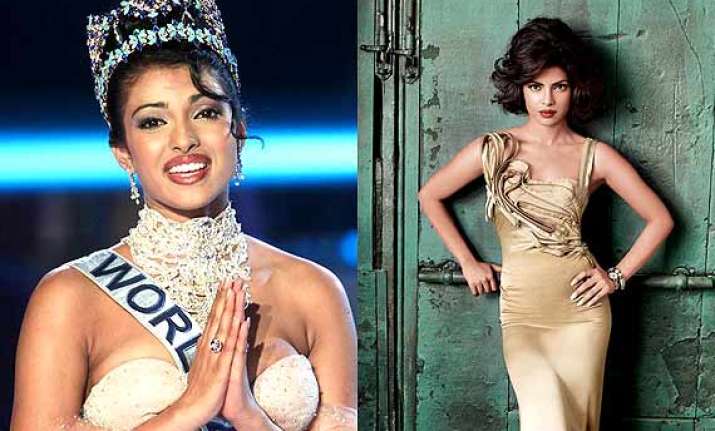 New Delhi: With her latest film 'Mary Kom' poster is out, Priyanka Chopra is surely seeking new heights in Bollywood.
 Regardless of what others in Bollwood think of her international career; she seems to be touching new heights.
Priyanka Chopra aka Piggy Chops has been one of the top fashionistas in Bollywood. The style diva has come a long way now, since her Andaaz days.
Priyanka initially sported revealing attires for photo shoots and red carpet events. But now she has refined her style sense. On the occasion of her 31st birthday, we take a look at her transformation from a Miss World to a 'Desi Girl'.
Priyanka has always been in limelight for her acting skills but one thing that she lacked during her earlier days was style sense. She had some really bad style days during the films like The Hero and Andaaz.

 According to her former stylist Teena Ahuja Kapoor, "Priyanka had a hawk eye for beautiful and exquisite things. She had the sense of colour, fabric like no one else of her time."
 Priyanka never had to struggle too much with her wardrobe, as it was full of D&G, Gucci, and other big brands. With Aitraaz, she put forth an exotic, sexy and sensuous image of hers that was well received and much appreciated by fashion critics.
Often Priyanka chooses to stick to comfort clothing when it comes to partying, or travelling etc. For photoshoots, films and ramp she prefer that her attire goes nothing less than the best work of the designer.
It was Madhur Bhandarkars's movie 'Fashion' and Karan Johar's 'Dostana' that changed the diva into an overnight super starlet. Priyanka was seen as nation's new 'Desi Girl'.
She is Bollywood's one of the most stylish celebs, be it her sporty look, casual attire or even music launches she surely knows how to keep up with the fashion police. As they say, 'When in Rome dress like Romans."
The actress has also recently made her mark in international music industry with two of her mega hit albums, 'In My City' feat Will.i.am and 'Exotic' feat Pitbull.'
 In My City was Priyanka's first ever music venture (her late father's dream). The album also featured American recording artist, and songwriter Will.i.am.
Her 2nd album is with American rapper and songwriter Pitbull; the album is titled 'Exotic'
With well-built muscles and a completely toned body, Priyanka looks fierce in the poster of her upcoimg film 'Mary Kom'where she is posing with a punch.

The muscles, expression and attitude clearly reflect how dedicatedly Priyanka has worked for this movie.

 The film is based on the life of Olympic medalist Mary Kom.