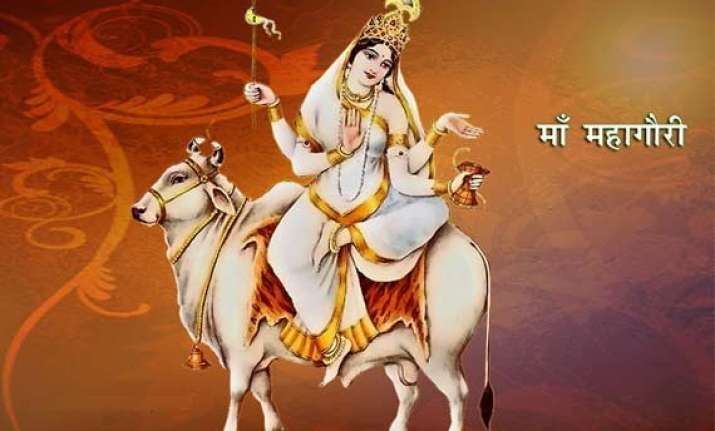 New Delhi: The 8th day of Navaratri is dedicated to Maa Mahagauri, the 8th avatar of Maa Durga.
The legend has it that Maa Mahagauri liberated the world from evil forces. She has three eyes and four hands.
Her lower right hand holds a Trishul and the upper right hand is in the mudra of allaying fear.
Whereas her lower left hand is in a pose of granting boons to her devotees and she is holding a damaru in her upper left hand.
The Eighth swarup of Ma Durga is Ma "Maha Gauri." She is depicted as fair as a conch, moon and jasmine flowers. Her clothes and ornaments are white and clean. She has three eyes. She rides on bull She has four hands.
The above left hand is in "Fearless – Mudra" and lower left hand holds a "Trishul." The above right hand has tambourine and lower right hand is in blessing style. She is calm and peaceful.
It is said that when the body of Gauri became dirty due to dust and earth while observing penance, Shiva makes it clean with the waters of Gangas. Then her body became bright like lightening. There fore, she is known as "Maha Gauri".
Maa Mahagauri gives blessings from her left lower hand and her right upper hand is in the pose of allaying fear.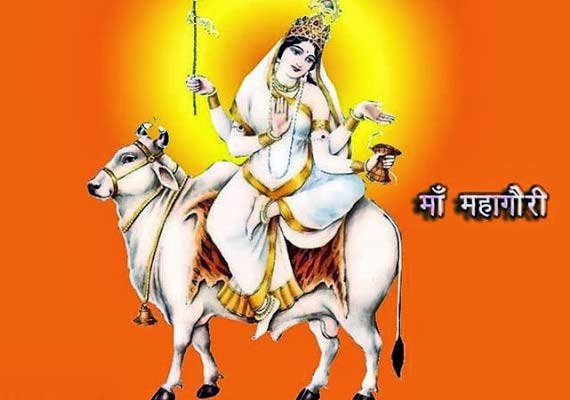 It is said that Maa Mahagauri is a 16-year-old unmarried form of the Goddess Parvati. The legend behind Maa Mahagauri's extremely white complexion is that she was blessed by the Lord Shiva, who was impressed by the hardships and devotion by the Mahagauri at the Himalayas. As a result, she developed a dark complexion.
Then, Lord Shiva accepted her prayers and sprinkled gangaajal on her, then, her body shone like silver, and hence she became popular as Maa Mahagauri.
Worship Maa Mahagauri to be free from the clutches of the material world and to remove sorrows from your life, for she will lead you to the path of virtue and inner power.