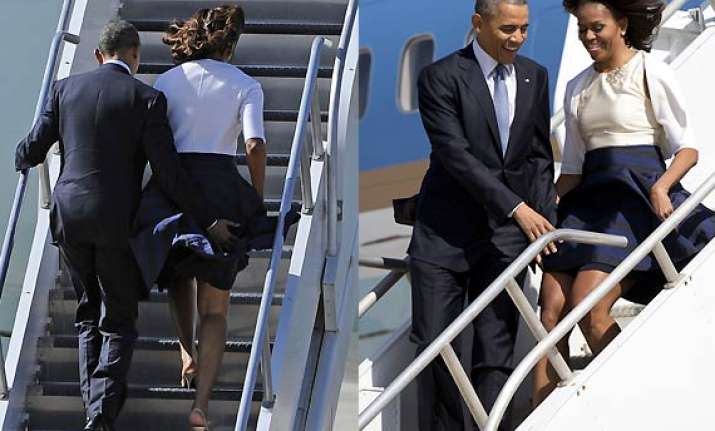 Who said that royalties can't have their moment of embarrassment? Michelle Obama was left red-faced as her skirt blew up in the gust of wind.
The President and First Lady of United States averted an embarrassing moment before boarding the Air Force One today.
President Barack Obama and his wife Michelle were left stunned when Michelle's skirt vigorously blew up in the gust of wind as the couple was boarding Air Force to leave for Austin, Texas.
As Michelle was seen walking up the stairs towards the flight a breeze swept away the light hem of her skirts making it go flowing. Obama quickly averted the incident by placing a safe hand around her skirt from flowing it too high.
And they might have sighed in relief way too early, as the couple had to go through similar embarrassment after the flight landed in Austin.
While Michelle walked in front of her husband making sure he'll give her cover, but she again saw her skirt blowing up vigorously in the air. This time again, President Obama came to the rescue of his wife and quickly made his way to come up in front of her placing his hand swiftly over her skirt.
Being a dutiful husband Obama averted the wardrobe fiasco. Recently Kate Middleton too had a similar situation while she deboarded the flight at New Zealand Airport as the royal couple kick started their three week tour around Australia-New Zealand.
Check out pics...