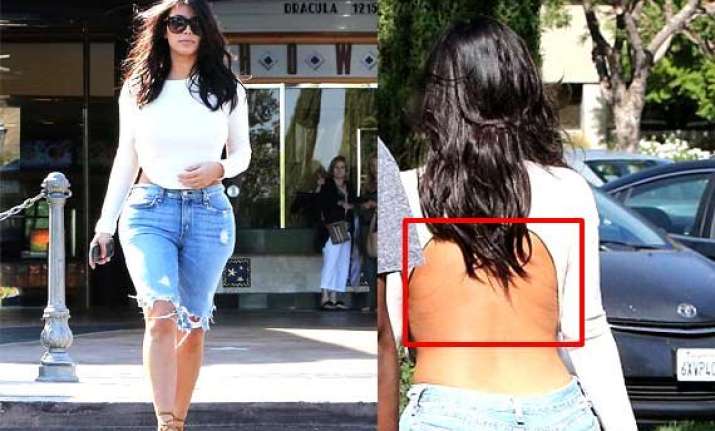 New Delhi: Kim Kardashian has done it yet again successfully. Yes, she has managed to grab the maximum eye balls once again as she stepped out in a quite revealing outfit recently.
The lady was seen having outing with husband two days before wearing quite 'weird' outfit. The 33-year-old was spotted wearing an open-back top with denim bermuda shorts and yellow heels to catch a movie in Calabasas, Los Angeles.
She showed her totally bared back while having a movie date with hubby Kanye West.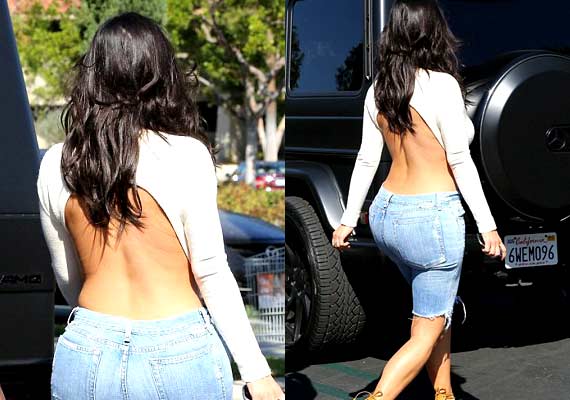 More than her bared back the thing, which caught out eyes was marks on her back. The reality star is known for squeezing her famously curvy figure with help of spandex.
The regular use of spandex has given intense impression on Kim's back.
Kim has always been wearing spandex to look curvy and hence it has resulted into such strong marks on her back.Well, we think Kim should try some natural ways to look skinny!
Whether she wears a cleavage revealing dress or goes braless, Kim never fails to attract people and media with her outrageous attempts. This time her marks have done it all.
No doubt that Kim has done a lot to get the curvy body but her constant use of spandex has brought her in news again.
For her date with Kanye West, 33-year-old reality star left little to the imagination in an open-back top, denim Bermuda shorts and heels for the outing.
The 'Keeping Up With The Kardashians' star's shorts appeared to have once been jeans before they were slashed at the knee.
Kanye was looking much less conspicuous in a grey T-shirt paired with dark trousers as he strode along in camel coloured boots.
She teamed her dress with strappy yellow heels and shielded her eyes with dark oversized shades.