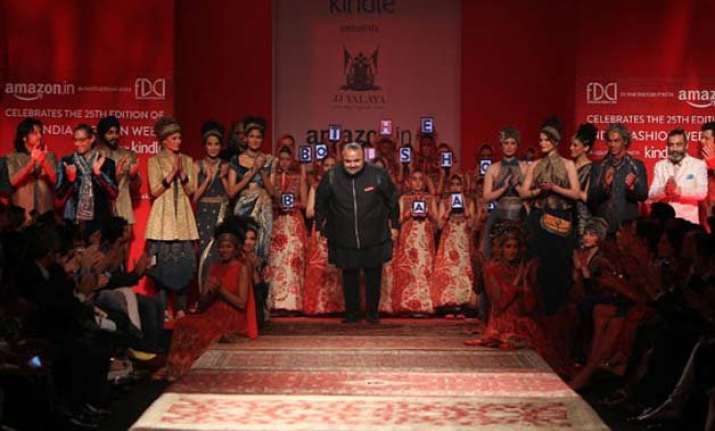 New Delhi: Ace designer JJ Valaya turned a fashion platform into a cultural cauldron by infusing elements of Russia and India into his collection 'The Bolshoi Bazaar', which he showcased at the Amazon India Fashion Week here.
Popular singers and brothers Amaan Ali Khan and Ayaan Ali Khan added the star quotient at Valaya's show.
The collection gave subtle hints of its influence from Russia, staying true to Indian traditional roots.
"The collection is Indian, but with a kiss of Russia, and that is because I was not trying to make a Russian statement. I love India, but I also like other cultures, so inspirations for the collection are from all over Russia, put together with India," Valaya told reporters post his show on Wednesday.
The collection has been created using signature weaves, crepes, voils, georgette and other fine fabrics with techniques like digital printing, applique and Valaya's signature embroideries.
Valaya narrated a colour story in a very lucid manner with one colour gradually making way for a new shade to rule the runway. It all started with pastel shades, which moved on to antique, metallic and neutral tones with dabbles of green, blue and orange.
There were capes, saris, dresses, skirts, jackets and anarkalis teamed with churidars giving a modern yet distinct Indian look to the ensembles.
Male models looked dapper and suave in jackets and suits in bright hues from the collection.
Another highlight of the collection was the use of head gear. The designer noted that it was to add a "fun" factor on the runway.
"I feel we should also have some fun on the ramp. The czar and czarina from Russia are known for elaborate headgear, so we wanted to include it in our collection," he said.
Apart from Amaan and Ayaan, artist Samar Singh Jodha also walked on the ramp.
Talking about calling his friend for the show, Valaya, one of the pioneering fashion designers in the country, said: "I have a quirky habit of getting my friends walk the ramp. It has happened a couple of seasons back and I did it again with nine super cool people. I can tell you that they were nervous as hell but walked with confidence."
Valaya also noted that the collection is not couture. He said: "We will have a completely different spin with the collection when the time comes."
Along with the Valaya collection, Kindle Voyage was also unveiled at the fashion show. The designer roped in children from different age group to sum up the show with the new Kindle, making the aura of the show lively.
The first day of fashion gala on Wednesday, which is being held at Pragati Maidan, also saw designers like Rajesh Pratap Singh, Anju Modi and Kavita Bhartia showcase their autumn and winter collection at the opening day of the bi-annual event.