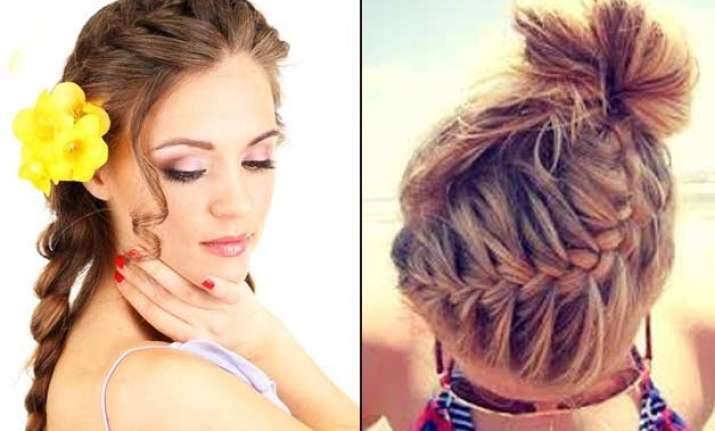 New Delhi: If you're heading to a beach for a summer vacation, make sure you take some tips on innovative braids and hairdos that can help you keep your tresses away from the harsh effects of sun and sand.
TRESemmé's official Hair Stylist, Daniel, Bauer recommends braids as your go-to hairdo for your next holiday and decodes some effortless braids for you to look uber glamorous while on vacation, said a statement.
Simple Braid: Channel your inner-goddess with this look.
* How to get this look:
Wash your hair thoroughly with a shampoo and conditioner to prep it for this style.
Create a clean centre part and section it around the crown to add some height.
Then, make a braid starting from the lower end of your hair. Braid it in a way to keep
it loose at the top and tight at the bottom.
Braid it all the way down and secure it with a rubber band.
You can also glam up the look by taking a piece of leather and wrapping it around the head with pins.
Milkmaid braid: This feminine Milk Braid is sure to compliment your swimwear. It is completely hassle-free and will look uber glamorous while you dip into the azure water
* How to get this look
Prepare the hair by washing with a shampoo and massage it with a quality conditioner. Add some mousse and blow dry your hair.
Create a clean center part and take it all the way through the back. Use your fingers to add some texture to the hair.
Start creating a normal braid with each section and secure with an elastic band.
Take the braids over each side of your head. If you have very long braids, you can cross them over before you put them up.
Create a tight knot with the two braids and secure with pins. Finish off with a spritz of hair spray.
Bohemian Braid: This hairdo is perfect for when you want to let your hair loose and go for a long walk on the beach.
* How to get this look:
Prepare your hair using a shampoo with suits your hair type.
Blow dry your hair in all directions. With your fingers, run mousse from the middle to ends of the hair to lock to add the texture to the hair.
Depending on what looks best with your face, create a center part or deep side parting and begin braiding a basic loose braid, roughly starting around the eyeline.
Once done, tie a clear elastic at the end and start gently pulling at the sides of the braid with a tail comb. This will make the look more undone and messy as well as make your braid appear thicker, helping those with thin hair.
Apply a light misting of hairspray to keep it in place and looking perfectly messy all day long.