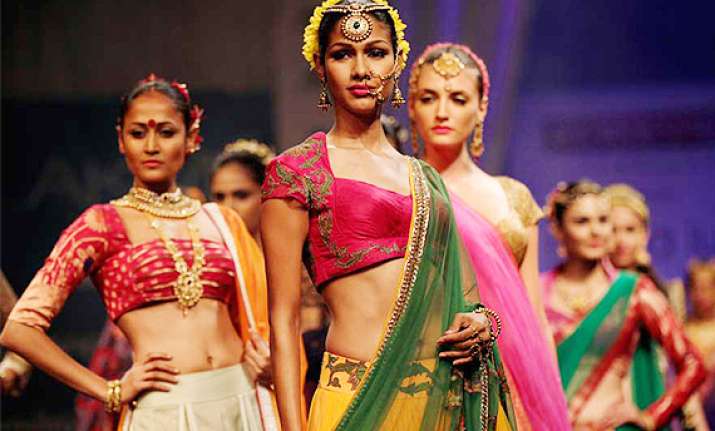 New Delhi: Budding designers and students of fashion designing displayed their creativity during A La Mode 2014, organised by French fashion school Mod' Art International.
Held here Wednesday, the glittering showcase witnessed a range of models donning creations by the graduating batch of 2014. Choreographed by Ketan Bhatia, the show comprised of 48 individual pieces, judged by stylist Rishi Raj and designer Shivali Misra of Purple Paper Bag fame.
Fashion Management guru Patrice De Place, president, Mod' Art International Paris, and former director Christian Dior and Celine (LVMH Group), was also present for the show. He doled out vital tips to the students.
The collections were based on themes such as Parable O Castle, inspired by the architectural beauty of palaces and forts around the world; Archaic Au Courant, which represented two entirely contrary worlds - the modern times versus the medieval vintage; Spring Umbrella, inspired by the early monsoons at the time of spring, and more.
Established in 2008, Mod' Art International India is the sister concern of Mod' Art International, Paris. The institute opened its first branch in Mumbai in 2008 and followed up with another branch in Delhi in 2009.