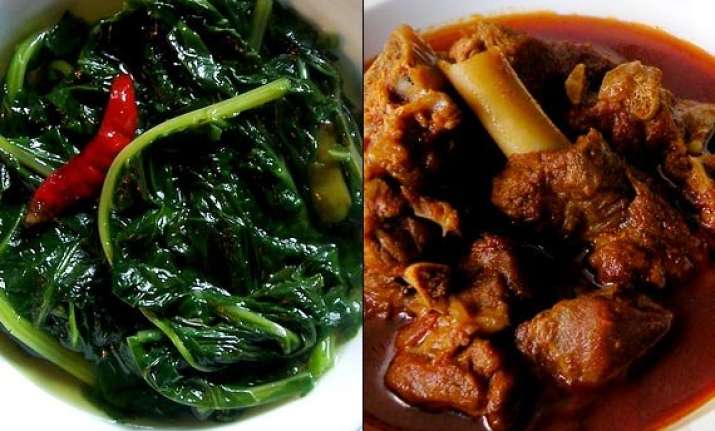 New Delhi: Food has always been my first love and being a Kashmiri it makes all the more sense to me, as folding up the sleeves for a hearty meal is something that we learn over the years.
Kashmiri cuisine, known for its richness and aroma comprises some really heavy dishes and some really simple and light delicacies.
From rich mutton Roganjosh to humble haaq, Kashmiri cuisine caters to all taste buds. If  non-vegetarians have the choice to relish over 30 meat dishes, vegetarians can also satiate themselves with a large variety of sumptuous dishes.
You must have tried, Roganjosh (the most common of all) at various restaurants. But I bet you haven't tried the authentic one as it is only served at few authentic Kashmiri restaurants in India and abroad.

Here's a look at the long Kashmiri menu (only the prominent dishes that are popular among Kashmiris but non-Kashmiris are not aware of them):
The best part about the Kashmiri cuisine is that it doesn't consist of onions, tomatoes or ginger, garlic. It's just the spices, oil and curd that make a rich and delicious curry.
Asafetida (hing) plays the lead role in Kashmiri cuisine.

Rogan Josh: Lamb cooked in spicy red gravy. A specific part from lamb's leg is used for this dish. Meat is fried using mustard oil, Kashmiri spices and curd.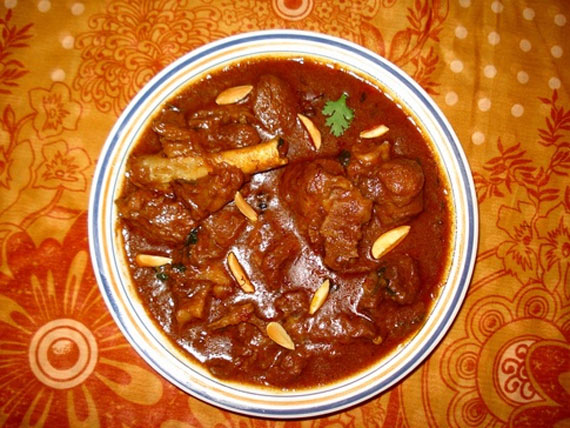 Photo credit: foodrecipes360
Yakhni: This is totally a curd based dish and has no chilies at all. Lamb ribs are used for this dish. First fried in mustard oil and then cooked in curd with saunf powder, little ginger powder and pinch of salt. The curry is very smooth.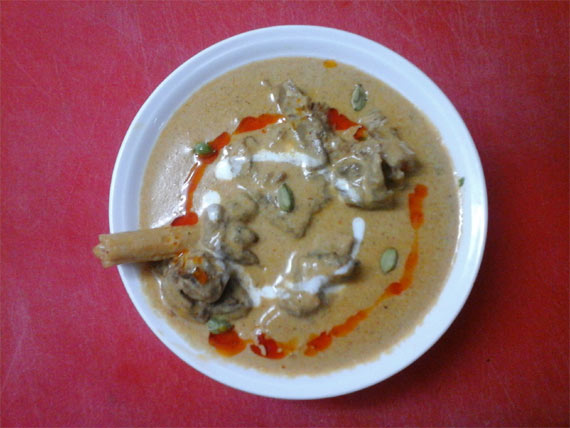 Photo credit: tastyduniya
Machgand: It stands for minced meat balls. These meatballs are cooked just like Roganjosh in red spicy curry and can be eaten with either rice or piping hot paranthas. In old days, 'mach and parantha' was considered a very rich breakfast and was only served to important guests and sons-in-law (as pan India, sons-in-law are given special treatment).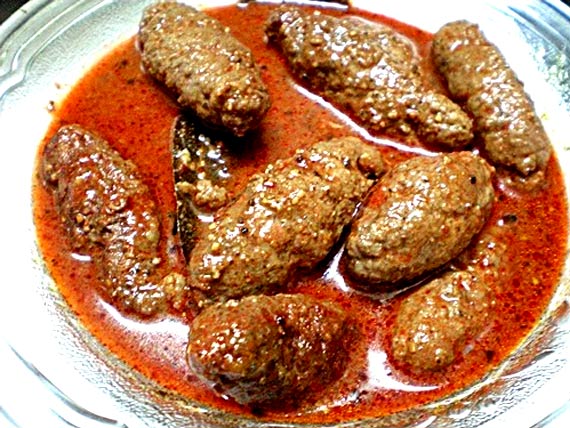 Photo credit: kashmirifood
Qabargah: Don't go by the name, this meat dish is just unavoidable. The crust of the meat is crisp and inside it is so tender that it will melt in you mouth. Qabargah are fried rack of lamb. This is a common dish in Hindu and Muslim Kashmiri cuisine but the recipe is bit different. Qabargah is served with the main course. I have shared the recipe with many non-Kashmiri friends and this dish has become an instant hit in their families.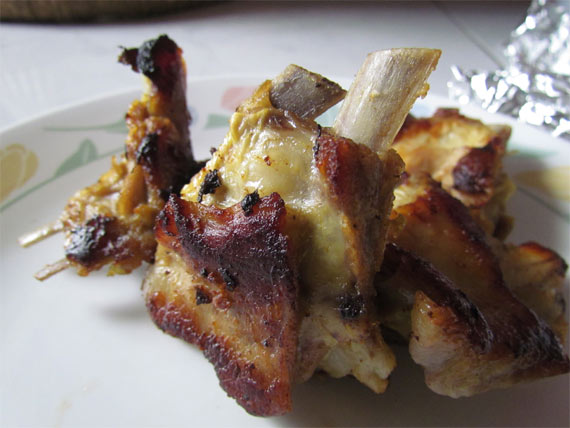 Photo credit: yummraj