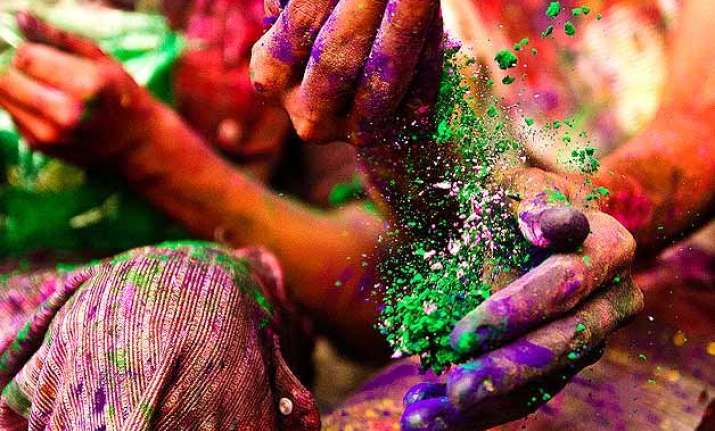 How to protect your nails from damage on Holi from colours
New Delhi:
Stay healthy and completely nourished on Holi is a huge task to achieve. However, as we get too engrossed in seeking fun and laughter on the festival, we tend to forget to draw those strict boundaries for our health.
And while we do have several alternatives available to protect our skin and hair form the harsh colours, our nails do get ignored in the entire hoopla we create for our body-care process.
In order to be in a safe yard with your nails too, here follows a few easy tips you can use by flaring those perfectly manicured nails trimmed at their place!
1. Keep your nails in a perfect shape. Smooth and unbroken nails will pay as good resistant to dry colours.
 
2. Keep massaging your nails with almond oil, ghee a few days before Holi. You can apply a pinch of these products before going to bed at night.
 
3. A day prior to Holi, cover them with a dark nail-paint. You can use any colour for that matter, however, a dark shade viz. black, blue, green, magenta would do much better.
 
4. Apply at least two coats of nail colour. Secure your colour with another layer of shiner or invisible nail paint.
 
5. If you have long nails, do cover your nails from the inside part at the top too. This should be not be that difficult, just flip your palm and smear nail paint internally on the nails too.
 
6. Once you are completely done with drying your nail-paint, do massage them with another pinch of oil (any).
Here, you are – ready to cut an impressive picture every time you would pick up a 'Gulaal' to colour someone's face realizing how wonderfully your hands do the entire talking. Ting!