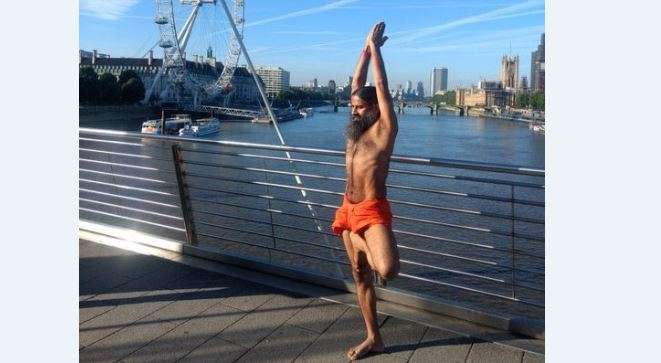 Yoga guru Baba Ramdev has attained worldwide fame and acclaim because of his yoga skills. The yog guru who travels around the globe to teach yoga is currently in United Kingdom to popularise the ancient form of exercise.
The ancient art which focusses on syncing mind and body is gaining global acceptance gradually and its result was seen in the UK session. After 4th International Yoga Day was celebrated all around the world, Baba Ramdev took a step forward to conduct free of cost classes for practitioners. Over thousands of people attended the yoga class in London this weekend. Session was also organised in Conventry and the response was no different as 2500 Yoga practitioners throng the class. Baba Ramdev's UK trip will also comprise of yoga session in Glasgow.
For many practitioners being taught by Ramdev was more like a dream come true. The Yoga guru emphasised the importance of yoga and said that it is beneficial for good health, peace of mind and success.
Yoga in London ! Yoga, Sprituality & Ayurveda are India's biggest contribution to the world for the welfare of mankind pic.twitter.com/tQCd7Fev5g

— स्वामी रामदेव (@yogrishiramdev) June 23, 2018
In Coventry session, he focussed on the children who attended the yoga class, saying that they are future of the nation and yoga would help them lead a life without disease. He was also pleased to see children chanting Gayatri mantra.
We all know that yoga not only keeps diseases at bay but also enhances life quality. It reduces stress and brings clarity of thoughts and inner happiness.
First time the statue of a Yogi be installed at @MadameTussauds museum. This will further add to the glory of the science of Yoga and will motivate people across the globe to adopt a Yogic lifestyle pic.twitter.com/Sg4F5lFSEY

— स्वामी रामदेव (@yogrishiramdev) June 25, 2018
On a related note, Baba Ramdev is being measured for a wax figure at Madame Tussauds. The statue will be unveiled next year. 
Things to keep in mind before you start practising yoga
For all latest news, stay tuned to our Facebook page