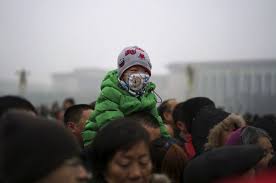 Alzheimer's disease, a type of dementia that causes problems with memory, thinking and behaviour, is interconnected with air pollution, according to a new study.
According to researchers, there are a large number of toxic nanoparticles found inside the human brain, the same type of particles found in polluted air. 
The study, led by Barbara Maher from Lancaster University, found that people living in areas with high levels of pollution in the air, have abundant amounts of toxic nanoparticles in their brain.
The research team examined the brain tissue of 37 individuals which had lived in air polluted hotspots like Mexico City or Manchester. With the use of microscopic and spectroscopic psychoanalysis, the team came to the conclusion that some petite magnetic components from air pollution packed in the brains, which eventually caused mental problems like Alzheimer.
As per study, the tiny magnetic particles located in the human brain are a strongly magnetic, poisonous, mineral, and concerned in the creation of hasty oxygen species including free radicals in the human brain. These particles are allied with neurodegenerative issues like Alzheimer. This is for the first time that such detection has been made.
"The first thing we did was to make ultra-thin sections of tissue, and we analyzed that using high-resolution transmission electron microscopy, a very highly resolved microscope, in Glasgow. We were able to examine those thin sections to identify if these particles were in the cells, their shape, size, and size distribution, and critically also conduct chemical analysis in the microscope to determine that these particles were magnetite," said Barbara Maher.
The study is published in the academic journal titled as 'Proceedings of the National Academy of Sciences.'