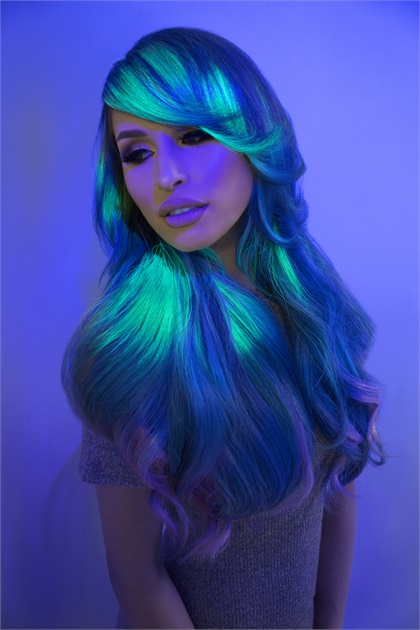 Bored of your balayage and gray hair looks. Here is a latest hair colour trend for you.'Lite brite' inspired-hair looks is the ultimate fashion trend to be followed this year. This lite brite fashion trend, which is all set to become a rage in the year 2017, glows when you get under dark light.  
According to a popular hairstylist, this is the boldest and brightest hair color look of the year. 
The expert revealed that lite brite is a combination of Pravana Neons, Vivids, and Pastel hair colors, which don't bleed into each other, which helps in giving you a cool color-blocked look. 
To get a perfect brite lite look around 11 colors, including gorgeous pastels pink, coral, and blue are used. But it's the chromaSilk neons, in green, yellow, pink, and orange, that allows the hair to glow under the black light, says the expert.
Similar to the glow-in- the- dark hair trend, which was popular last year, lite brite hair trend will be most followed fashion trend this year. Lite Brite hair glows when placed in a black light or when you enter in the disc. Definitely it is going to enhance your partying mood and will be an add-on in your styling sense.
So, need not to worry much about what fashion trend to follow this year as the very fresh hair colour trend is already in the market.
Along with the 'lite brite' hair colour, the other hair colour inspirations to be followed are new versions of metallic hair and specific shades of natural hair colours.