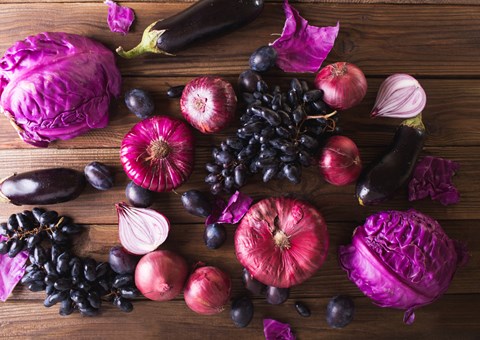 Puple foods are not only visually attractive but are also high on nutritional values. Purple foods are trending and you can also be a part of it by adding purple grapes, blueberries, plums, purple black currants and beetroot etc to your plate. They not only revitalise skin and assist in weight-loss but also help in minimising risks of cancer, stroke and heart diseases.
Experts list down the reasons why one must add purple foods to one's diet: 
* Purple and blue fruits are among the best foods to eat for a great skin. Blueberries, blackberries and plums are all rich in antioxidants, which combat free radical damage. Purple and blue fruits can also help keep your skin looking younger longer.
* They help fight risk of cancer. Purple cabbage, eggplant, blackberries, black currants, purple onions, concord grapes: all of these has a natural purple pigment that contains flavonoids, including resveratrol, which keeps blood pressure in control and boosts immunity from certain cancers.
* Purple sweet potato food has anthocyanins, which aid digestion and have anti-inflammatory properties. They protect against cellular damage. Purple foods contain anthocyanins, which are health-promoting chemicals that help protect and heal the body's cells. 
* It aids weight loss. Purple carrots are high in anthocyanins and pro-vitamin A carotenoids, which are powerful antioxidants. They may also help with weight management and glucose control. Purple foods one can add to their diet: purple cauliflower, black rice, purple asparagus, elderberries, acai, purple sweet potatoes, purple corn and cereal. 
* Blackberry helps prevent ageing and is very beneficial for those who are having hair fall. This helps the skin to glow and stay active.
* Beetroot, once roasted, can be used in all meal period starting from salad to soup to main course. It's the trendiest ingredient for chef since it fits in all kind of cuisine. Beetroot soup and salad is certainly the best to detox with figs.
* Jamun (Java plum) is an ingredient which fits into the concept of sustainability. Jamun chat, jamun kanji and jamun aachar are some of my innovations which has already been well acknowledged by many.
You can have it in whichever way you like- make a dessert, include it in salad or just have a smoothie out of it.
(With IANS inputs)
For more such updates check our Facebook page