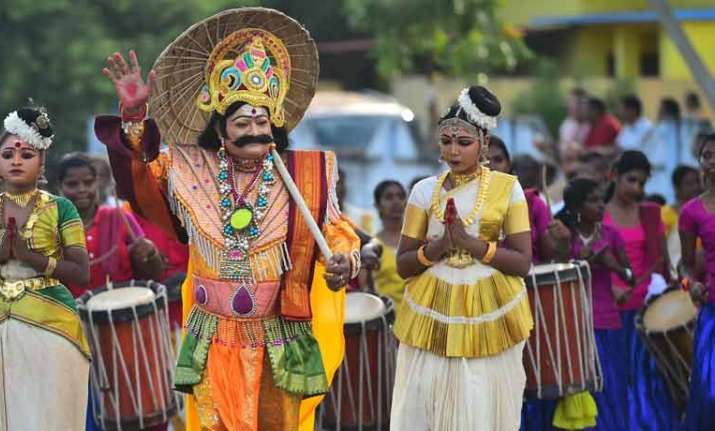 The ten day celebration of Onam has set in and Malayalis across the country are completely engulfed in the festive spirit. This year the festival has begun on August 25 and will continue till September 4. It is popularly believed that an Asura ruler Mahabali visits every home of his state during the ten days, hence people do their best to welcome their favourite king. Festivals are simply an opportunity to savour special food delights, so here are three recipes you can prepare to mark the special occasion.
* Olan- ash gourd and cowpeas stewed in coconut milk 
Ingredients: Cow peas (Vanpayar): 1/2 cup; Ash gourd: 1 cup (chopped); Pumpkin: 1 cup (chopped); Green chillies: 3 (slit); Thin coconut milk: 1/2 cup; Thick coconut milk: 1/2 cup; Curry leaves: 10; Coconut oil: 1 tablespoon; Mustard seeds: 1/4 table spoon; Pomegranate seeds: 1/4 of the pomegranate; Salt to taste
Method: Soak the red cow peas (Vanpayar) for 4-5 hours, dice the pumpkin into small cubes, add green chillies (sliced length wise), salt and the soaked red cow peas to this. Cook it for a few minutes and drain. Add the thick coconut milk and within 2-3 minutes add the thin coconut milk too. Allow it to boil. After 5-7 minutes, take it off the flame and add three tablespoons of thick coconut milk. Add salt, if necessary.
Heat oil in a pan, add the mustard seeds and curry leaves. When the seeds start crackling, turn off the flame and add these to the dish. For garnishing, pomegranate seeds could be added.
* Kaalan- a raw mango and yoghurt curry
Ingredients: 1 cup peeled green mangoes; 4 slit green chillies; 1/2 cup water; 1 teaspoon salt; 2 tablespoons oil; 1 teaspoon mustard seeds; 1/4 teaspoon ground fenugreek; 6 curry leaves; 3 red chillies cut halved; 4 cups plain yoghurt, lightly beaten
For Coconut Paste: 1 cup grated fresh coconut; 1 pinch cumin seeds; 1/2 teaspoon chilli powder; 1/4 teaspoon turmeric powder
Method: In a medium pan, cook the mango pieces with the green chillies, salt and water until all the water has evaporated. Keep aside. Heat the oil in a small skillet and add the mustard seeds. When they burst, add the fenugreek, curry leaves and red chillies. Add the prepared coconut paste (see above) and saute for a couple of minutes over low heat, stirring continuously, taking care not to brown the mixture. Add the cooked mangoes and yoghurt. Keep stirring over low heat to prevent curdling for 2-3 minutes until the gravy becomes thick. Remove from heat and continue to stir until the Kaalan cools.
* Kerala veg stew 
Ingredients: 20 ml coconut oil; 0.05 grams ginger; 0.05 grams chopped garlic; 0.05 grams green chilli; 50 grams carrot; 50 grams beans; 50 grams potato; 5 curry leaves; 20 grams onion chop; half tea spoon cumin powder; half tea spoon coriander powder; salt to taste; fresh coriander; 10 grams refined flour
Procedure: Take a saucepan. Add coconut oil in a pan. Then add some chopped onion and garlic. Saute for 5 minutes. Add green chilli, cinnamon stick, bay leave and curry leaf. Add refined flour for texture. Then add coconut milk. Boil on slow flame. When milk boils, then add carrot beans and potato into the small cups. When vegetable is cooked, add salt to taste. In the last step, add lemon juice just before serving.
Not only people, in fact Kerala Tourism Department is also celebrating Onam in its own way by wooing tourists with an impressive package. Domestic and foreign tourists are getting a chance to celebrate the festival with locals there and gorge on delicacies. They are also being given special Onam gifts on the last day of their trip.
(With IANS inputs)