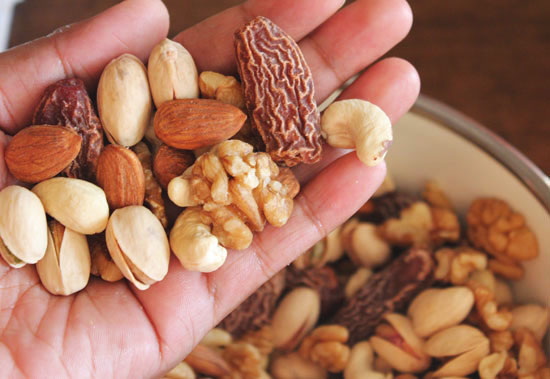 A new study has found a direct link between nut consumption and inflammatory biomarkers.
In a cross-sectional analysis, researchers looked at the association between habitual nut consumption and inflammatory biomarkers among 5,013 men and women participating in two ongoing prospective cohort studies: the Nurses' Health Study and Health Professionals Follow-up Study.
Higher nut intake (5 or more times per week) was associated with lower levels of C-reactive protein (CRP) and Interleukin 6 (IL6). Both of these compounds increase in the body when there is inflammation, which can lead to chronic disease.
According to senior author Ying Bao, "Substituting three servings per week of tree nuts for three servings per week of red meat, processed meat, or eggs was associated with significantly lower CRP and IL6; lower CRP concentrations were also observed when substituting three servings per week of tree nuts for refined grains."
Elevated CRP levels have been shown to predict the development of both cardiovascular disease and type 2 diabetes and IL6 has been associated with cardio-metabolic risk. 
The study further found that nut consumption is related to body mass index (BMI), which is a strong determinant of inflammatory biomarkers.
In fact, weight loss has been repeatedly shown to be associated with a decrease in levels of inflammatory biomarkers. Therefore, the researchers suggest, the associations between nut intake and inflammatory markers may be mediated in part through BMI.
"This is yet another piece of evidence showing that people should include more nuts in their diet," stated Maureen Ternus, Executive Director of the International Tree Nut Council Nutrition Research and Education Foundation (INC NREF)."Just a handful of tree nuts every day can result in numerous health benefits." The study is published online in the American Journal of Clinical Nutrition.
(With agency inputs)