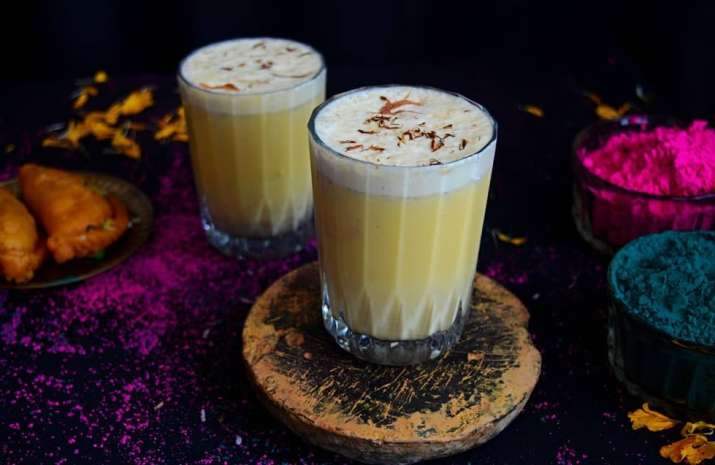 Summer is already here and all we crave for in this scorching heat is some refreshing summer cool drinks. While we already told you how to prepare nutritious and tasty Bael Ka Sharbat at home, let learn how to prepare refreshing Thandai at home. Thandai is a cool refreshing milk-based drink which is flavoured with dry fruits and fragrant spices. Usually, this drink is prepared around the festival of Holi.
However, you can still enjoy Thandai throughout the months of blazing sun.
Ingredients
1 cup warm water
3 tbsp almonds
2 heaped tbsp pistachios
2 tbsp poppy seeds
1/4th cup melon seeds
2 tbsp dried rose petals or you can use rose water as well.
1 tbsp fennel seeds
½  tsp whole black pepper
3-4 green cardamoms
1 pinch saffron
½ cup sugar
1 glass chilled milk
Ice cubes
Rose petals
Thandai Recipe: How to make
Take some warm water in a bowl and then soak almonds, pistachios, poppy seeds, melon seeds, dried rose petals, fennel seeds and black pepper in it.
Cover it and then keep it aside for max 2 hours. You can also keep it overnight.
After few hours, pour the soaked dry fruits and spices in a mixer grinder and make a paste out of it.
Add sugar, green cardamoms and a pinch of saffron to it. Blend the mixture to get a smooth paste.
Take about 4 tbsp of this paste in a glass and then add chilled milk. You can also add some water to reduce the thickness of milk.
Mix the contents very well. Add few ice cubes if you want.
Garnish the prepared Thandai with rose petals and also chopped dry fruits.