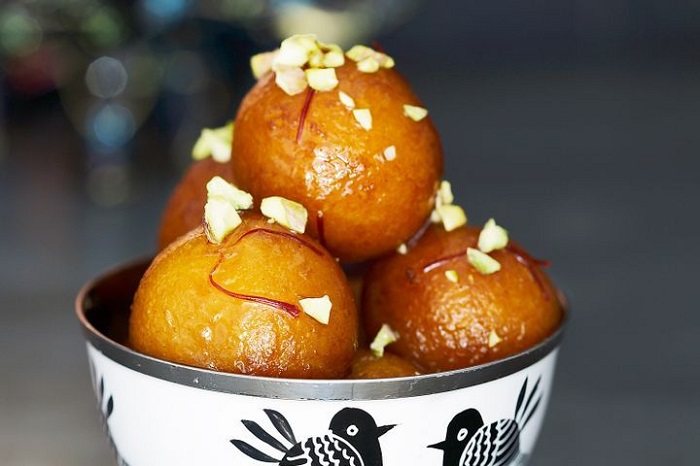 There's no single person in India who doesn't like Gulab Jamun. After all, the dessert is so delicious and mouth-watering. But these days, you cannot be so sure about the purity of ingredients used in Gulab Jamun sold at sweet shops. What to do? Skip Gulab Jamun this Diwali? Not at all! We have an easy solution for you and your taste buds. Why not try making Gulab Jamun at home this year? Here's a quick recipe to brighten up your festive mood. Note down the ingredients. 
Ingredients for Gulab Jamun
1 cup milk powder
1/4th cup+ 2 tbsp maida (refined flour) 
1 tsp ghee/oil
1 tbsp milk
1 tbsp yoghurt or 1 ½ tbsp butter 
1 pinch of baking soda 
Ghee for frying
1 tsp chopped pistachios and almonds 
For making sugar syrup
1 ¼ to 1 ½ cups sugar 
1 ½ cup water 
4 green cardamoms pods or you can take ¼ tsp cardamom powder
Few drops of rose water 
Gulab Jamun Recipe for Diwali
Mix water, sugar and crushed cardamoms together. Boil the syrup till it gets viscous and sticky. Check the consistency. It should be one string thick. Turn the gas off. Add 2 tbsp of water and mix. Add few drops of rose water for flavour and aroma. Set it aside. Cover it with a lid to keep it hot. 
Take flour, milk powder and soda and mix them together. Mix them uniformly. You can use a flour sieve to mix them. 
Add some desi ghee and mix it well using hands. Mix yoghurt and milk and add 1.5 tbsp of this mixture to flour mixture prepared above. Knead the flour into a dough. Smear some oil to your hands. Make small balls of the dough. It should retain the shape of the ball well. 
Make as many balls as you want. Heat a pan with some oil. Check the syrup if it's hot. If it's not, then heat it up a bit. 
When the ghee in the pan is hot, add the balls to fry. Make sure that the oil is not to hot, as the Gulab Jamuns will turn brown without cooking properly. 
Add the fried balls to the sugar syrup. Let them soak the syrup for 3 hours. Garnish them with grates pistachio and almonds. Serve it hot.